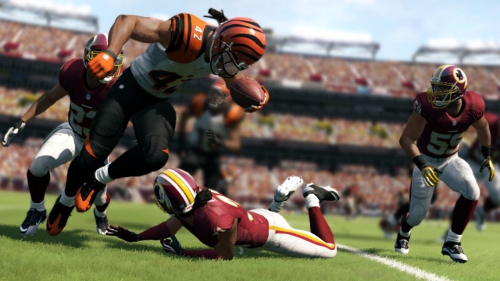 Three weeks of the NFL season are now in the books providing even more evidence for certain players and teams in general to be adjusted up or down in Madden NFL 13. It'll be interesting to see if EA Sports makes an attempt to balance out the update following the article over the weekend – they may be looking to do so as a tweet from the game's official account was asking for feedback on what players should decrease and shifting some focus to that area would at least would represent progress.
Big weeks or continued success were had by players such as Tim Jennings, Jason Pierre-Paul, Andre Brown, Ramses Barden, Jamaal Charles, J.J. Watt, Jake Locker, Christian Ponder, A.J. Green, Torrey Smith, and Chris Clemons. Chris Johnson struggled yet again, Peyton Manning continued to display concerns, Sam Bradford followed up an encouraging performance with a poor one, and the Packers' tackles Brian Bulaga and Marshall Newhouse were offensive. Injuries affect Darrelle Revis and Austin Collie (both out for the season) with shorter-term absences possible for C.J. Spiller, Reggie Bush, and Darrius Heyward-Bey.
As always leave your thoughts in the comments on what players and teams should get ratings attention, whether positive or negative, in the next Madden NFL 13 roster update!