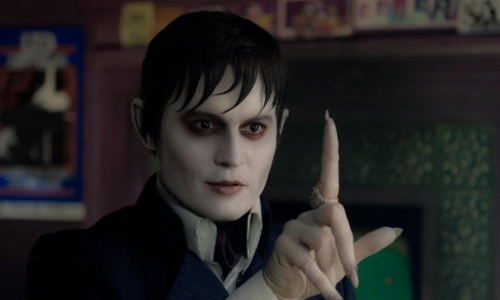 Dark Shadows
From the wonderfully warped imagination of Tim Burton comes the story of Barnabas Collins (Johnny Depp), a dashing aristocrat who is turned into a vampire by a jilted lover and entombed for two centuries. Emerging from his coffin into the world of 1972, he returns to his once-majestic home, only to the few dysfunctional descendants of the Collins family who remain. Determined to return his family name to its former glory, Barnabas is thwarted at every turn by his former lover – the seductive witch Angelique (Eva Green).

People Like Us
Smart and witty drama People Like Us, featuring an all-star cast, including Chris Pine (Star Trek), Elizabeth Banks (The Hunger Games), award-winning Michelle Pfeiffer and Olivia Wilde. Sam (Pine) is a twenty-something, fast-talking salesman whose latest deal collapses the day he learns his father has suddenly died. Against his wishes, Sam is called home to put his father's estate in order and reconnect with his estranged family. While there, he uncovers a startling secret that turns his entire world upside down — he has a 30-year-old sister he never knew existed.

Red Lights
Veteran paranormal researchers Dr. Margaret Matheson (Sigourney Weaver) and Tom Buckley (Cillian Murphy) debunk fraudulent claims of ghost whispering, faith healing and other psychic phenomena by detecting what Matheson calls red lights, the subtle tricks behind every staged supernatural occurrence. But when the legendary blind psychic Simon Silver (Robert De Niro)comes out of retirement after 30 years, his once-fearless adversary Matheson warns Buckley to back off, fearing reprisal from the powerful Silver. Determined to discredit Silver, Buckley and his star student (Elizabeth Olsen) use every tool at their disposal to uncover the truth behind the charismatic, spoon-bending, mind reader. But Buckley is forced to reexamine his own core beliefs as his quest builds to a mind-blowing conclusion in this taut psychological thriller from award-winning writer and director Rodrigo Cortés (Buried).

Iron Sky
In 1945 a secret Nazi space program fled to the Dark Side of the Moon where they constructed a giant fortress and a massive armada of flying saucers. Their plan: travel back to Earth and re-colonize.

Peace, Love, and Misunderstanding
When her husband tells her he wants a divorce, devastated Manhattan lawyer Diane (Catherine Keener) heads upstate with her two teens to Woodstock to stay with her estranged flower-child mother (Jane Fonda). In this charming village, Diane and her city kids get a new perspective on life: poetry-reading daughter Zoe (breakout star Elizabeth Olsen of Martha Marcy May Marlene) becomes interested in a sensitive young butcher Chace Crawford, (Gossip Girl), nerdy son Jake (Nat Wolff) finds material for his first film project, and Diane herself grows close to a handsome carpenter/singer (Jeffrey Dean Morgan). Most importantly, Diane finally gets the chance to end the ancient war with the mother she has not seen for decades. Legendary director Bruce Beresford (Tender Mercies) creates a touching and poignant comedy with PEACE, LOVE & MISUNDERSTANDING, which proves once and for all that having an old soul doesn't mean you can't be a free spirit.

Cinderella
Living with a cruel stepmother and two stepsisters, Cinderella longs for a better life. After a visit from her fairy Godmother, she attends Prince Charmaigne's annual holiday ball where she meets the prince and falls in love. At the stroke of midnight , she rushes away, leaving the prince with the task of finding the maiden who fits the glass slipper left behind…

Princess Bride: 25th Anniversary Edition
Based on William Goldman's novel of the same name, The Princess Bride is staged as a book read by grandfather (Peter Falk) to his ill grandson (Fred Savage). Falk's character assures a romance-weary Savage that the book has much more to deliver than a simpering love story, including but not limited to fencing, fighting, torture, death, true love, giants, and pirates. Indeed, The Princess Bride offers a tongue-in-cheek fairy tale depicting stable boy-turned-pirate Westley's journey to rescue Buttercup (Robin Wright), his true love, away from the evil prince (Chris Sarandon), whom she had agreed to marry five years after learning of what she had believed to be news of Westley's death. With help from Prince Humperdinck's disgruntled former employee Miracle Max (Billy Crystal), swordsman Inigo Montoya (Mandy Patinkin), and a very large man named Fezzik (Andre the Giant), the star-crossed lovers are reunited.

Masters of the Universe: 25th Anniversary
Planet Eternia and the Castle of Greyskull are under threat from the evil Skeletor who wants to take over the planet. A group of freedom fighters, led by the heroic He-Man are accidentally transported to Earth by a mysterious Cosmic Key which holds the power to make Skeletor all-powerful. Once on Earth, He-Man joins alliances with two teenagers as they attempt to find the key and return home.

Pet Semetary (Blu-ray)
After moving to an idyllic home in the countryside, life seems perfect for the Creed family…but not for long. Louis and Rachel Creed and their two young children settle in to a house that sits next door to a pet cemetery – built on an ancient Indian burial ground. Their mysterious new neighbor, Jud Crandall (Fred Gwynne), hides the cemetery's darkest secret…until a family tragedy brings the secret to life. Now, an unthinkable evil is about to be resurrected. From STEPHEN KING, the Master of the Macabre, comes a journey that leads to hell and back. Though not everyone survives the trip. For the Creeds, home is where the horror is.

Universal Classic Monsters: The Essential Collection
8-disc boxed set. The "Classic Monsters Collection" includes eight of Universal's popular monster films, all in deluxe Special Editions: "Dracula" (1931, 75 min.), "Frankenstein" (1931, 71 min.), "The Mummy" (1932, 74 min.), "The Invisible Man" (1933, 71 min.), "The Bride of Frankenstein" (1935, 75 min.), "The Wolf Man" (1941, 70 min.), "The Phantom of the Opera" (1943, 93 min.), "The Creature from the Black Lagoon" (1954, 79 min.).

New Girl: Season 1
New Girl is a charming, offbeat comedy about friends, flings and modern relationships. After a bad breakup, free-spirited optimist Jess (Zooey Deschanel) moves in with three bachelors who have plenty of issues of their own. Winston (Lamorne Morris) is a former athlete, Nick (Jake Johnson) is a law school dropout, and Schmidt (Max Greenfield) is a wannabe womanizer in love with…himself. Together with her super-hot BFF Cece (Hannah Simone), this New Girl discovers that hanging out with the guys can be a challenging – and hilarious – adventure!

Downton Abbey: Seasons 1 and 2 Limited Edition Set
Downton Abbey—a sprawling, lavish Edwardian mansion nestled in the Yorkshire landscape—needs an heir. Dame Maggie Smith stars as Violet, the stubborn Dowager Countess of Grantham, matriarch of Downton. Hugh Bonneville stars as her son, the stoic, unflappable Lord Crawley; Elizabeth McGovern is his far-sighted American wife, Cora.

Heart of Dixie: Season 1
Everything had been going according to plan for Dr. Zoe Hart (Rachel Bilson,The O.C.). Beautiful, privileged and talented, she was on her way to becoming a heart surgeon, just like her father. But when she's told she doesn't have the requisite bedside manner to get an important fellowship, she's devastated — and if she wants to get the fellowship next year, she's going to have to take a job as a general practitioner. So, this lifelong New Yorker takes a chance on an offer by a mysterious admirer — a southern country doctor – and packs her bags, slips on her stilettos and leaves Manhattan for the lovely little town of BlueBell, Alabama. Zoe feels the culture shock of her new surroundings immediately, but the real shock comes when she learns that the doctor who invited her to BlueBell has passed away and left her with his half of the medical practice.

90210: Season 4
The fourth season of 90210 follows the group from West Beverly kids as they navigate life after high school. Their journey into adulthood will find them heading in different directions while trying to keep the same closeness that worked so well for them in high school. Coming from a world of glamour and privilege, with endless possibilities in front of them, anything can happen. All in all, it's just another day in the world's most famous zip code.

Magic City: Season 1
Miami Beach, 1959. As Ike Evans rings in the New Year at his luxurious Miramar Playa Hotel, Havana falls to Castro's rebels. It's a turbulent time in Miami, but it's THE place to be. The Kennedys, the mob and the CIA all hold court here. And Ike, he's the star of his hotel. But everything comes at a price. To finance his dream, he sold his soul to mob boss Ben "The Butcher" Diamond. Ike's wife Vera, a former showgirl, and his three kids think he's an honorable man, but he can't break his pact with the devil. His life is a façade. In fact, nothing at the Miramar Playa is what it seems. By day, it's diving clowns and cha-cha lessons. By night, escorts have secret liaisons with husbands in the family cabanas, while Miami's seedier residents and the law drift together to hear legendary singers, musicians and comics. As Ike's world threatens to implode, he fights for his family, and the Miramar Playa, in Magic City.

How I Met Your Mother: Season 7
With both a baby and a wedding on the way, change is in the air and awesomeness abounds in the hilariously unpredictable Season Seven of How I Met Your Mother. As Marshall and Lily move away to start their family, Ted continues the search for the woman of his dreams. Meanwhile, Robin reveals a shocking secret and special guest star Katie Holmes joins the fun in the long-awaited return of the Slutty Pumpkin! And, wedding bells are ringing at last for confirmed bachelor Barney, but why is he wearing that ridiculous ducky tie, and just who is the "lucky" lady?

Nikita: Season 2
In the previous season of this suspenseful series featuring international action star Maggie Q, the charming and deadly Nikita waged a war against Division, the agency that created her. Michael – the man who trained her, a man she trusted – was hunting her. But Nikita had an ace up her sleeve: Alex, a girl she trained to infiltrate this secret unit of the government. At the end of Season One, Nikita and Alex's relationship has been shattered, and Nikita and Michael's relationship has been restored. In Season Two, Nikita and Michael are on the run with a hard drive containing the government's darkest secrets and conspiracies. Together, they are going to right the wrongs that Division has committed over the years, one mission at a time. But leading the hunt for them this time is Alex … and she knows all of Nikita's tricks!