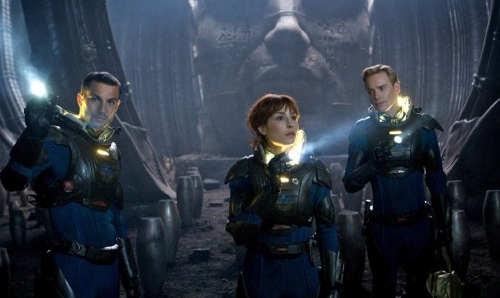 Prometheus
Ridley Scott, director of Alien and Blade Runner, returns to the genre he helped define. With Prometheus, he creates a groundbreaking mythology, in which a team of explorers discover a clue to the origins of mankind on Earth, leading them on a thrilling journey to the darkest corners of the universe. There, they must fight a terrifying battle to save the future of the human race

Rock of Ages
Rock of Ages tells the story of small town girl Sherrie and city boy Drew, who meet on the Sunset Strip while pursuing their Hollywood dreams. Their rock 'n' roll romance is told through the heart-pounding hits of Def Leppard, Joan Jett, Journey, Foreigner, Bon Jovi, Night Ranger, REO Speedwagon, Pat Benatar, Twisted Sister, Poison, Whitesnake and more.

The Raven
The macabre and lurid tales of Edgar Allan Poe are vividly brought to life – and death – in this stylish, gothic thriller starring John Cusack as the infamous author. When a madman begins committing horrific murders inspired by Poe's darkest works, a young Baltimore detective (Luke Evans) joins forces with Poe in a quest to get inside the killer's mind in order to stop him from making every one of Poe's brutal stories a blood chilling reality. A deadly game of cat and mouse ensues, which escalates when Poe's love (Alice Eve) becomes the next target

Red Dawn (1984)
When Communist paratroopers descend on a high school football field in Colorado, a group of the school's students wages an all-out guerrilla war to save their town – and their country! An all-star cast, including Patrick Swayze, Charlie Sheen and Harry Dean Stanton, delivers powerful performances in this gripping story of courage and patriotism.

Jeff Dunham: Minding the Monsters
Jeff Dunham's Minding the Monsters brings together your favorites– Walter, Peanut, Bubba J, Jose Jalapeno… On a Steek!, and Achmed the Dead Terrorist as you've never seen them before!  Enter the ultimate haunted house where Walter transforms into something grumpier than he already is! Watch Bubba J rise from the dead!  Meet Peanut's alter ego, The Purple Avenger of the Night, and his spicy sidekick! And witness Achmed literally dressed to kill in an outfit that would terrify the most terrifying terrorist!

E.T. Anniversary Edition
Relive the adventure and magic in one of the most beloved motion pictures of all-time, E.T. The Extra-Terrestrial, from Academy Award-winning director Steven Spielberg. Captivating audiences of all ages, this timeless story follows the unforgettable journey of a lost alien and the 10-year-old boy he befriends. Join Elliot (Henry Thomas), Gertie (Drew Barrymore) and Michael (Robert MacNaughton) as they come together to help E.T. find his way back home. Now digitally remastered with enhanced picture and sound for its 30th Anniversary, E.T. The Extra-Terrestrial is one of the great American films that forever belongs in the hearts and minds of audiences everywhere.

Bones: Season 7
While she tackles some of her most gruesome homicide cases yet, Dr. Temperance Brennan (Emily Deschanel) also faces the delicate demands of motherhood, and a deepening relationship with FBI Special Agent Seeley Booth (David Boreanaz). The thrills escalate this season when a pastor's wife goes missing, shipping clerks go postal, and the squints go Hollywood. But the biggest shocker of all comes when clues left by a deranged cyber genius tag Brennan as a murder suspect. Here are all 13 Season 7 episodes with plot twists, mystery, romance and humor to die for!

It's Always Sunny in Philadelphia: Season 7
Join the dysfunctional gang at Paddy's Pub For another outrageously raunchy season of scheming, scamming, backstabbing, and all-around inappropriateness! Whether they're giving a hooker an image makeover, hitting the beach at the Jersey Shore, preparing For the apocalypse, or simply engaging in a little good old-fashioned cyber-stalking, the gang delivers more trash-talking, half-baked insanity than ever before. Now, get ready to get fat with Mac and indulge in Season Seven of It's Always Sunny in Philadelphia, stuffed with uproarious extras.

The League: Season 3
Unsportsmanlike conduct takes on a whole new meaning in the hilarious, smack-talking fantasy football comedy, The League. With special guest stars Seth Rogen, Jeff Goldblum, Sarah Silverman and Eliza Dushku, Season Three kicks off as Kevin and Jenny have a run-in with a local drug dealer, and Pete regrets learning a new sexual position. Ruxin hires a hot new au pair, but does Taco have his eyes on her end zone? It's time to trade up to special never-before-seen extended episodes and outrageously unrated bonus features. The race to the playoffs is on.but who wins the Shiva, and who gets the dreaded Sacko?