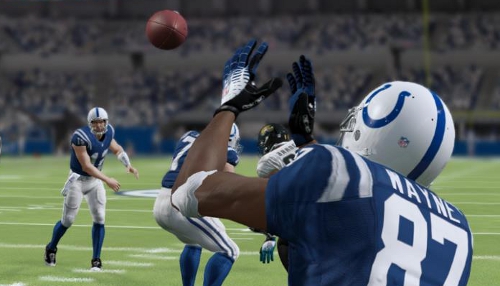 Week five of the NFL season is now in the books with the Texans and Falcons the remaining unbeatens while the Browns are the only winless team. There were a number of injuries that could have lasting impact and some players that continue upward trends while others mightily struggle exposing themselves as vastly overrated in Madden NFL 13.
Players who had big weeks and continue to impress this season include Reggie Wayne, Alfred Morris, Ahmad Bradshaw, Luke Kuechly, Brandon Browner, Bruce Irvin, Percy Harvin, Marques Colston, Alex Smith, Robert Quinn, and the special teams duo for the Rams of Greg Zuerlein and Johnny Hekker. At this rate J.J. Watt could realistically reach 99 overall before the season is up. Overlooking Matt Ryan's struggles in the playoffs he has a regular season resume to at least warrant consideration for the "Clutch" trait.
Expected to drop (and potentially significantly) are names like Chris Johnson, Cam Newton, Matt Cassel, Michael Vick, Bobby Massie, and Billy Cundiff. Danny Amendola, Troy Polamalu, Brian Cushing, Cedric Benson, B.J. Raji, and Jermichael Finley are all expected to miss time due to injuries while Ryan Williams heads to the IR leaving the Cardinals without their top two RBs.
As always leave your thoughts in the comments on what players should rise or fall in ratings with the upcoming Madden NFL 13 roster update!