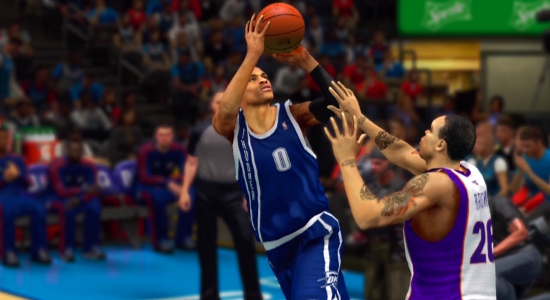 Jerseys have leaked early through past NBA 2K titles and this year is no different. A hex-edited roster file, readily available on 2K Share to download, includes numerous uniforms not currently available in NBA 2K13 and some that have yet to even be officially revealed by the league. These unis – which are on the disc but generally locked until a code is given out at a later date – have been pulled through the Xbox 360 as it is not possible to do the same on the PS3.
The new uniform that is getting the most exposure is one that had been under wraps for the Oklahoma City Thunder. Their new alternate is now on display along with an egregious error as 2K spelled Thunder as "Thudner". There will probably be a patch or update down the line to correct it before being publicly released. The file, which was first noted by Operation Sports with Kotaku spotting the misspelled "Thudner", is available to download under the name "Hyperballer21 Hex Roster Update" through the 2K Share feature on the 360.
Other jerseys accessible through the file include recently announced alternates for the Portland Trail Blazers, San Antonio Spurs, and Denver Nuggets, the "White Hot" look for the Heat, and "Christmas" variations for a number of teams.