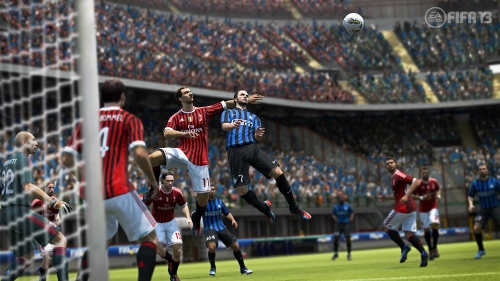 A patch for FIFA 13 is scheduled to arrive this coming weekend for the Xbox 360 and PS3 and has already rolled out for the PC. The update addresses some issues as identified through consumer feedback including instances of getting stuck on the practice field after initial connection to a Seasons game and various stability problems in Career mode. Continue on for a look at everything receiving attention in the latest patch for FIFA 13. 
•Connection stability in Online Seasons when finding an opponent in the Arena, and at kick-off.
•Career Mode freeze while starting a new career with free agents.
•Career Mode hangs when using Game Face.
•Stability in Career Mode when players retire or are being bought back from loan.
•Users will no longer be able to lower difficulty settings in a FUT Seasons match.
•Freeze in FUT Online Tournament HUB on PS3.
•Napoli of Serie A will now have fully authentic kits and crests in FIFA and FIFA Ultimate Team.
•Legacy defending and passing assistance options removed in Pro Clubs.
•Freeze in Pro Clubs Results screen.
•Matchmaking settings in Pro Clubs (with "ANY"/"Match Keeper") will provide the desired results.
•Changes made in National Squad not properly reflected in Manager Mode screen.
•(PC Only) Freeze while retrieving Hospitality Settings.