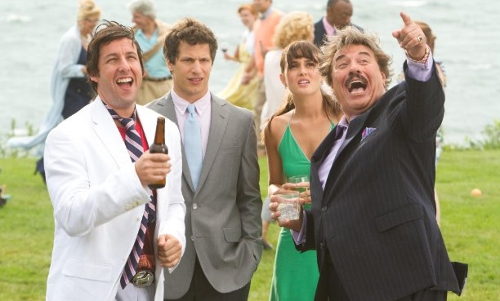 That's My Boy
While still in his teens, Donny (Adam Sandler) fathered a son, Todd (Andy Samberg), and raised him as a single parent up until Todd's 18th birthday. Now, after not seeing each other for years, Todd's world comes crashing down on the eve of his wedding when an uninvited Donny suddenly shows up. Trying desperately to reconnect with his son, Donny is now forced to deal with the repercussions of his bad parenting skills.

2016 Obama's America
Immersed in exotic locales across four continents, best selling author Dinesh D'Souza races against time to find answers to Obama's past and reveal where America will be in 2016. During this journey he discovers how Hope and Change became radically misunderstood, and identifies new flashpoints for hot wars in mankind's greatest struggle. The journey moves quickly over the arc of the old colonial empires, into America's empire of liberty, and we see the unfolding realignment of nations and the shape of the global future.

Avatar (3D/Blu-ray/DVD Combo)
James Cameron's AVATAR comes to life as never before – now in eye-popping 3D for the ultimate home viewing experience.

Madagascar 3: Europe's Most Wanted
Alex the Lion, Marty the Zebra, Gloria the Hippo, and Melman the Giraffe are still fighting to get home to their beloved Big Apple and of course, King Julien, Maurice and the Penguins are all along for the comedic adventure. Their journey takes them through Europe where they find the perfect cover: a traveling circus, which they reinvent – Madagascar style.

Moonrise Kingdom
Set on an island off the coast of New England in the summer of 1965, Moonrise Kingdom tells the story of two twelve-year-olds who fall in love, make a secret pact, and run away together into the wilderness. As various authorities try to hunt them down, a violent storm is brewing off-shore — and the peaceful island community is turned upside down in more ways than anyone can handle. Bruce Willis plays the local sheriff. Edward Norton is a Khaki Scout troop leader. Bill Murray and Frances McDormand portray the young girl's parents. The cast also includes Tilda Swinton, Jason Schwartzman, and Jared Gilman and Kara Hayward as the boy and girl.

Chernobyl Diaries
Six tourists hire an extreme tour guide who takes them to the abandoned city Pripyat, the former home to the workers of the Chernobyl nuclear reactor. During their exploration, they soon discover they are not alone.

The Santa Clause: 3 Movie Collection
Have three times the fun as you celebrate the season with the complete Santa Clause trilogy – now available for the first time on Blu-ray in one spectacular box set! Superstar comedian Tim Allen delivers the perfect gift as he stars as the big man, himself, in three warm and wonderful movies about discovering the true magic of Christmas. See how it all began with Disney's original classic, and hop on Santa's sleigh for an exciting ride filled with belly laughs and family fun. Christmas gets a little nuttier when Scott Calvin unknowingly inherits the role of the legendary St. Nick. His ordinary life snowballs into a hysterical series of outrageous events as he fills out his Santa suit, meets the future Mrs. Claus, and faces his ultimate test against the mischievous Jack Frost. With a blizzard of bonus features and three magical movies, this three-disc box set is hours of holiday entertainment your whole family will enjoy again and again.

Ice House
Daniel Craig (Quantum of Solace Girl With The Dragon Tattoo) stars in one of his earliest roles in this adaptation of award-winning crime novelist Minette Walters' literary debut. Ten years ago Phoebe Maybury's hateful husband David disappeared from Streech Grange. Now a naked unidentifiable corpse has been discovered in the icehouse on the Grange and Inspectors Walsh (Corin Redgrave Foyle's War The Forsyte Saga) and McLoughlin (Craig) have to decide whose it is whether he was murdered and who killed him.

Mad Men: Season 5
Mad Men" is back. Season Five of Mad Men, four-time Emmyr winner for Outstanding Drama Series and winner of three consecutive Golden Globesr, plunges into the seductive and intriguing world of Sterling Cooper Draper Pryce. Jon Hamm and the rest of the award-winning cast continue to mesmerize as they adapt to changing times, social revolution, and a radical world. Lust is back. Adultery is back. Deception is back.

Psych: Season 6
The world's most dynamic, and oddball, detective duo get more than they bargained for when they take on con-artists, masked vigilantes and Darth Vader collectibles in the wild sixth season of Psych. Fake "psychic detective" Shawn Spencer (James Roday) and his best bud, Burton "Gus" Guster, go undercover, behind the scenes and over the top to solve some of the most off the wall crimes imaginable. But how long can these super sleuths keep their psychic secret safe?

Check It Out: Season 1 and 2
Produced by John C. Reilly and Absolutely Productions, Check It Out: Season 1 and 2 includes all 12 episodes that parody a local market's newsmagazine show starring Oscar-nomineer John C. Reilly as Dr. Steve Brule. With each episode our host Dr. Brule introduces his audience to local celebrities and interesting things around town as well a providing health and lifestyle tips.

Touch: Season 1
Kiefer Sutherland (24) makes a triumphant return to TV in this smart and hopeful drama about the ties that bind all of us together. Single father Martin Bohm (Sutherland) struggles to raise his emotionally challenged son Jake. But Martin soon discovers that Jake possesses an amazing gift: the ability to see the hidden patterns of numbers that connect every life on the planet. With the help of a brilliant professor (Danny Glover), Martin learns to communicate with Jake and help people around the world. Blending science and spirituality, this unique series will touch you in ways you never thought possible.

The Firm: Season 1
As a young associate Mitch brought down Bendini Lambert & Locke a prestigious Memphis law firm operating as a front for the Chicago Mob. His life was never the same. After a difficult ten years which included a stay in the Federal Witness Protection Program Mitch and his family emerge from isolation determined to reclaim their lives and their future — only to find that past dangers are still lurking and new threats are everywhere.

Alcatraz: The Complete Series
Alcatraz, starring Jorge Garcia, Sam Neill, and Sarah Jones is an action-thriller series about the reappearance of 302 inmates who went missing 100 years earlier. What happens when the nation's worst murderers, rapists, kidnappers and thieves reappear in the present day? Where did they go? Why are they back? And how can they be stopped? Those are just some of the mysteries Alcatraz will unveil.