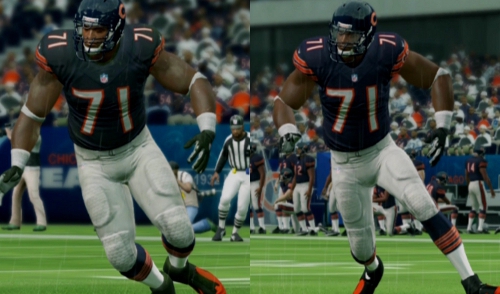 The patch delivering numerous new features to Madden NFL 13 arrived yesterday but with it a few issues have already been identified. The most prominent affects player editing within Connected Careers mode which was one of the most highly anticipated additions.
Making any changes to players in certain positions results in their appearance changing and becoming scrawny. This appears to be isolated to the offensive line, defensive line, and fullback – though there could be others as the difference could just be less noticeable. In some cases the players affected can be adjusted back through editing but in others it may not be possible to fix.
In the above example only a visor was added to Israel Idonije but clearly his body mass changed significantly. The version on the left is unedited while the version on the right has been edited in a career. Considering the positions in question generally have large or muscular frames the change to their look is drastic and hard to overlook.
EA Sports has yet to comment on the issue. It's possible that another patch, to fix this problem and a few others that have emerged, will follow in the coming weeks.