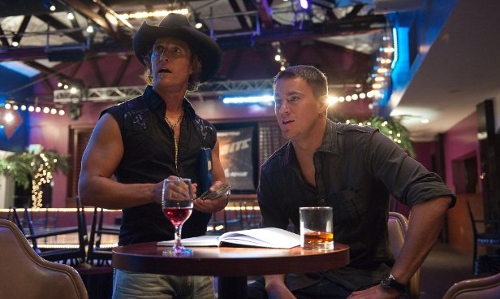 Magic Mike
Academy Award-winning director Steven Soderbergh ("Traffic") unveils the story of Mike (Channing Tatum), an entrepreneur with many talents and loads of charm. Mike spends his days pursuing the American Dream, from roofing houses and detailing cars to designing furniture at his Tampa beach condo. But at night.he's just magic. The hot headliner in an all-male revue, Magic Mike has been rocking the stage at Club Xquisite for years with his original style and over-the-top dance moves.

Abraham Lincoln: Vampire Hunter
Abraham Lincoln: Vampire Hunter explores the secret life of our greatest president, and the untold story that shaped our nation. Visionary filmmakers Tim Burton and Timur Bekmambetov (Director of Wanted) bring a fresh and visceral voice to the bloodthirsty lore of the vampire, imagining Lincoln as history's greatest hunter of the undead.

Seeking a Friend for the End of the World
Steve Carell and Keira Knightley lead an all-star cast in this clever and heartwarming comedy that explores the crazy things people do when humanity's last days are at hand. Set in a too-near future, two neighbors, Dodge (Carell) and Penny (Knightley), react in their own unique ways to the announcement that a 70-mile-wide asteroid is en route to the Earth. He wants to return to his first love. She just wants to get back to her family. As the unlikely companions' respective journeys converge, their outlooks – if not the world's – brighten in surprising and hilarious ways.

Tyler Perry's Madea's Witness Protection
Madea's back in an all-new movie! A Wall Street investment banker has been set up in a mob-backed Ponzi scheme, forcing him to be put under witness protection with his entire family in Madea's house down South.

Secret of Wings
From the world of Disney fairies comes an all-new movie for the whole family that unlocks an amazing secret about Tinker Bell that will change her life forever. Join Tinker Bell and the rest of your favorite fairies in a magical adventure that leads them to discover a new winter fairy world and reveals new winter fairy characters.

Wrong Turn 5: Bloodlines
The backwoods of West Virginia are deeper, darker and deadlier than ever in this all-new, unrated chapter of WRONG TURN! The cutting-edge terror continues when a small mining town hosts the legendary Mountain Man Festival on Halloween, where crowds of costumed partygoers gather for a wild night of music and mischief. But a killer celebration soon gives way to a blood-soaked feeding frenzy when an inbred family of hillbilly cannibals trick and treat themselves to a group of visiting college students who are just dying for a good time

Take This Waltz
Michelle Williams plays twenty-eight-year-old Margot, happily married to Lou (Seth Rogen), a good-natured cookbook author. But when Margot meets Daniel (Luke Kirby), a handsome artist that lives across the street, their mutual attraction is undeniable. Swelteringly hot, bright and colorful, Take This Waltz leads us, laughing, through the familiar, but uncharted question of what long-term relationships do to love, sex and our image of ourselves.

Crooked Arrows
You'll stand up and cheer for this feel-good sports thriller starring Brandon Routh (Superman Returns.) The ancient sport of lacrosse has been part of their tribal heritage for centuries, but the Native American players on the Crooked Arrows high school team are long-time losers. When former star player Joe Logan (Routh) agrees to coach the rag-tag group to seal the deal on a lucrative casino project, he sets out to turn the chumps into champs and, in the process, learns the value of loyalty himself. If the Arrows can learn to shoot straight and challenge their prep school rivals, these fast-breaking warriors may just pull off the ultimate upset and win it all!

Blade Runner: 30th Anniversary Collector's Edition
In celebration of Blade Runner's 25th anniversary, director Ridley Scott has gone back into post production to create the long-awaited definitive new version. Blade Runner: The Final Cut, spectacularly restored and remastered from original elements and scanned at 4K resolution, will contain never-before-seen added/extended scenes, added lines, new and improved special effects, director and filmmaker commentary, an all-new 5.1 Dolby Digital audio track and more.

Happy Endings: Season 2
Forget who gets to keep the ring — when a couple splits, the real question is, who gets to keep the friends? In this modern comedy, a couple's break-up will complicate all of their friends' lives and make everyone question their choices. For years, perfect couple Dave (Zachary Knighton) and Alex (Elisha Cuthbert) drew their friends in and held them together. Now that they've split, does this group have the stuff to stay together or have to choose sides?

Star Wars: The Clone Wars – Season 4
Executive Producer George Lucas and Lucasfilm Animation present Star Wars: The Clone Wars The Complete Season Four. The battle to save the galaxy reaches new heights of peril and new depths of darkness. The valiant Jedi Knights and clone troopers defend exotic planets from enemy forces. They wage war underwater, battle across a night-shrouded world, and take on the merciless Death Watch. Our heroes are tested like never before as Anakin is haunted by the realities of his past, Ahsoka fights to free her people and an undercover Obi-Wan braves a deadly bounty hunter tournament. Season Four culminates with the shocking return of a villain from the past: the ruthless Darth Maul, who will stop at nothing to achieve vengeance. The epic action, timeless characters, and sense-shattering sights and sounds of Star Wars surge on in Star Wars: The Clone Wars The Complete Season Four.