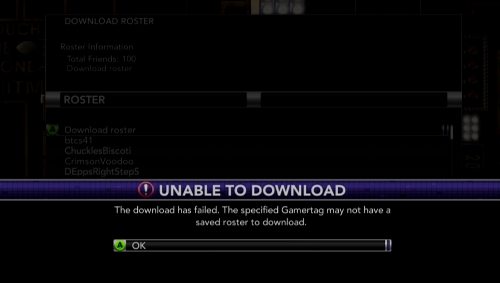 The Roster Share feature in NCAA Football 13 has been down for several days now with no indication from EA Sports that they are looking into the situation. Users have been unable to download any rosters, from any gamertag, on both the Xbox 360 and PS3. The message above is displayed when any attempts are made. 
It's easy to think that after the initial rush on named rosters the feature isn't utilized much but that really isn't the case as evidenced even by the number of emails and social messages that have come streaming in regarding the problem. Conspiracy theorists might believe EA is trying to quietly shut down the feature amidst the legal proceedings regarding player likenesses in the game but past issues with poor rosters or the EA Locker (as it used to be known) have been addressed quickly. Shutting off the feature now wouldn't help EA escape from a potential negative ruling in the case. If it did they would have taken such an action years ago.
Attempts to obtain an update from EA on the situation have gone unanswered. Should the feature begin working again, or comment come from the company regarding its status, that information will be added to this posting.
•(Update 10/24) The feature finally appears to be back up and running.