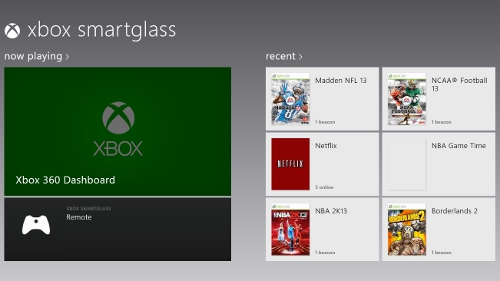 Today marked a huge day for Microsoft with the release of Windows 8 and, along with it, Xbox SmartGlass. Currently the SmartGlass app is only available for W8 computers, tablets, and phones and select Android devices through Google Play. Meanwhile those with iOS devices are left waiting but it should be arriving there very soon as well. 
Initially there were some rumors that suggested there would an exclusivity period that Microsoft would enact for their own devices. That looked as though it might be the case when SmartGlass did not launch on iOS or Android this morning. However the Android app became available late this afternoon. The iOS app is believed to have been submitted for approval with the hopes that it would be out today as well.
Currently the following games are offering SmartGlass functionality:  Ascend, Dance Central 3, Forza Horizon, Halo Waypoint, Home Run Stars, Karaoke, Kinect Sesame Street TV, and Prima Games. The app also provides navigation features within the 360 in areas such as the dashboard, Internet Explorer browser, Netflix, ESPN3, and HBO GO.
FIFA 13, Madden NFL 13, and NBA 2K13 have been expected to debut SmartGlass functionality but as of yet EA Sports and 2K Sports have not announced specific details or an expectation for when that connection will be made.
The big appeal of SmartGlass is that many will already have a device that will have the capability to communicate with their Xbox 360. There is no need to go out and buy a peripheral and even produces some of the features found with the upcoming Wii U. Now that it is accessible to many (with iPhones and iPads being added soon) it'll be interesting to see just how much advantage developers take with their integration and whether it proves to add value for consumers.