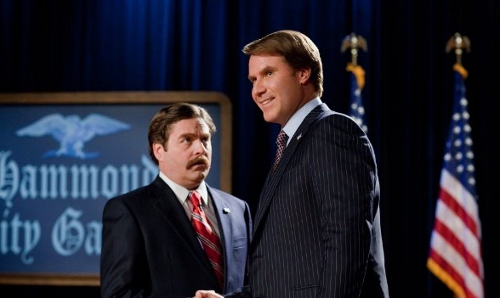 The Campaign
When long-term congressman Cam Brady (Will Ferrell) commits a major public gaffe before an upcoming election, a pair of ultra-wealthy CEOs plot to put up a rival candidate and gain influence over their North Carolina district. Their man: na‹ve Marty Huggins (Zach Galifianakis), director of the local Tourism Center. At first, Marty appears to be the unlikeliest possible choice but, with the help of his new benefactors' support, he soon becomes a real contender. As election day closes in, the two are locked in a dead heat, with insults quickly escalating to injury until all they care about is burying each other in this mud-slinging, back-stabbing, home-wrecking comedy from Meet the Parents director Jay Roach.

Safety Not Guaranteed
From the producers of Little Miss Sunshine – When an unusual classified ad inspires three cynical Seattle magazine employees to look for the story behind it, they discover a mysterious eccentric named Kenneth, a likable but paranoid supermarket clerk, who believes he's solved the riddle of time travel and intends to depart again soon. Together, they embark on a hilarious, smart, and unexpectedly heartfelt journey that reveals how far believing can take you.

The Amazing Spider-Man (Digital)
The Amazing Spider-Man is the story of Peter Parker (Garfield), an outcast high schooler who was abandoned by his parents as a boy, leaving him to be raised by his Uncle Ben (Sheen) and Aunt May (Field). Like most teenagers, Peter is trying to figure out who he is and how he got to be the person he is today. As Peter discovers a mysterious briefcase that belonged to his father, he begins a quest to understand his parents' disappearance – leading him directly to Oscorp and the lab of Dr. Curt Connors (Ifans), his father's former partner. As Spider-Man is set on a collision course with Connors' alter-ego, The Lizard, Peter will make life-altering choices to use his powers and shape his destiny to become a hero.

The Penguins of Madagascar: Operation Antarctica
Puttin' the holiday's on ice! Batten down the hatches and set sail for a thrilling all-new holiday adventures to – dramatic pause – ANTARCTICA! Watch as the wacky Penguins discover is takes a lot more than just cute and cuddly to pull off their coolest caper yet!

Rosemary's Baby (Blu-ray)
Terrifying and darkly comic, Rosemary's Baby marked the Hollywood debut of Roman Polanski (Repulsion). This wildly entertaining nightmare, faithfully adapted from Ira Levin's best seller, stars a revelatory Mia Farrow (Hannah and Her Sisters) as a young mother-to-be who grows increasingly suspicious that her overfriendly elderly neighbors, played by Sidney Blackmer (High Society) and an Oscar-winning Ruth Gordon (Harold and Maude), and self-involved husband (actor and filmmaker John Cassavetes) are hatching a satanic plot against her and her baby. In the decades of occult cinema Polanski's ungodly masterpiece has spawned, it's never been outdone for sheer psychological terror.

Alfred Hitchcock: The Masterpiece Collection (Limited Edition)
Universally recognized as the Master of Suspense, the legendary Alfred Hitchcock directed some of cinema's most thrilling and unforgettable classics. Alfred Hitchcock: The Masterpiece Collection features 15 iconic films from the acclaimed director's illustrious career including Psycho, The Birds, Rear Window, Vertigo, North by Northwest and many more. Starring Hollywood favorites such as James Stewart, Cary Grant, Grace Kelly, Paul Newman, Janet Leigh, Anthony Perkins, Tippi Hedren, Sean Connery and Kim Novak, this definitive collection showcases a true cinematic master at his best. Featuring over 15 hours of insightful bonus features plus an exclusive collectible book, each film has been digitally restored from high resolution film elements for the ultimate Hitchcock experience.

Glenn Beck Presents: The Project
In 2001, an inconspicuous manifesto now known as "The Project" was recovered during a raid in Switzerland: A manifesto that turned out to be a Muslim roadmap for infiltrating and defeating the West. Today, files containing evidence from the largest terror financing trial in U.S. history, which include details about "The Project", are being withheld by the Department of Justice. In an explosive mini-series, TheBlaze documentary unit investigates how the Muslim Brotherhood has infiltrated the American government and exposes how our nation's safety is in jeopardy as a result of this dangerous government cover up.

Copper: Season 1
From Emmy-winner Tom Fontana, Academy Award-nominee Will Rokos and Academy Awardr-winner Barry Levinson comes Copper, BBC America's first original scripted series. Copper is set in 1860s New York City. The 10-part drama centers on Kevin Corcoran (Tom Weston-Jones, MI-5), an intense, rugged Irish-American cop working the city's notorious Five Points neighborhood. Corcoran is struggling to maintain his moral compass in a turbulent world, while on an emotional and relentless quest to learn the truth about the disappearance of his wife and the death of his daughter. His friendship with two Civil War compatriots – the wayward son of a wealthy industrialist and an African American physician who secretly assists Corcoran with his detective work – takes him to the contrasting worlds of elegant Fifth Avenue and an emerging African-American community in rural northern Manhattan. The three men share a secret from their experience on the battlefield that inextricably links their lives forever.