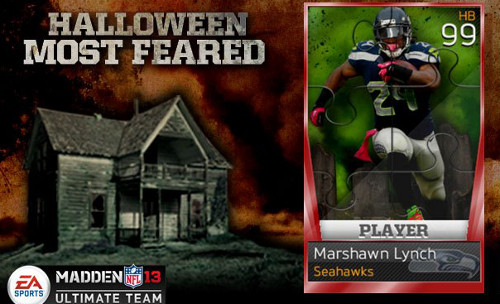 With Halloween right around the corner EA Sports has introduced a few themed additions to Ultimate Team mode in Madden NFL 13 and NHL 13.
Madden NFL 13 is featuring a collection of 11 of the "most feared players in the NFL" with their "Trick" cards available to be found in various packs. Once obtained there are solo challenges for the players in question and beating them unlocks their "Treat" card which together completes the "Most Feared" ratings-boosted version. 10 are put together in this manner and help towards claiming the big prize of Marshawn Lynch. Going the Auction House route is another option. Check out full details on the promotion here – the end date of which has not been stated.
Meanwhile over with NHL 13 it's a more simple push of a special pack offer that comes to a close at the end of the day. The "Halloween Pack" will feature 32 items with 18 of them being described as "rare". These packs go for a hefty 35K "Pucks" or the equivalent $7.