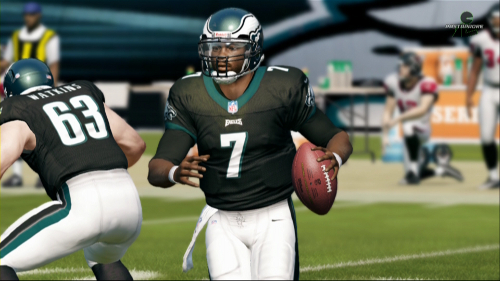 There will always be some level of debate when it comes to player ratings in any sports video game. Madden, with the frequent roster updates, gets the most scrutiny as adjustments are made on such a regular basis that it should result in the most accurate representation of a player's current status within the league.
Player ratings will be heavily influenced by the past – that is the baseline to adjust from as new data is added – but the purpose should be to present each individual as they are performing currently. Of course, stats don't tell everything, but they do frame a player into a performance bracket. There are numerous other variables involved but when it comes to a video game few of those things directly translate and instead it falls on their attributes and production.
With all that in mind it made sense to examine how players are performing against their overall player rating in Madden NFL 13 and see how things shook out beginning with quarterbacks today. By looking at their stats, the average starting QB having a 56 QBR and 86 overall rating in Madden, which players are outplaying their ratings (in a relative comparison) and which have yet to be adjusted downward properly? 
| | | | |
| --- | --- | --- | --- |
| Name | Stats | Rating | Status |
| Aaron Rodgers | 2165-69.0%-21TD-4INT-72.3QBR | 99 | —– |
| Drew Brees | 2310-59.7%-20TD-8INT-65.7QBR | 98 | Slightly Overrated |
| Tom Brady | 2408-65.3%-16TD-3INT-79.2QBR | 98 | —– |
| Eli Manning | 2301-62.6%-12TD-8INT-74.3QBR | 95 | —– |
| Ben Roethlisberger | 1987-66.8%-14TD-3INT-75.6QBR | 95 | —– |
| Peyton Manning | 2113-68.5%-17TD-4INT-82.5QBR | 95 | Underrated |
| Matt Ryan | 2018-68.7%-17TD-6INT-77.6QBR | 91 | Vastly Underrated |
| Tony Romo | 2073-65.7%-9TD-13INT-56.4QBR | 90 | Slightly Overrated |
| Joe Flacco | 1837-59.5%-9TD-6INT-53.9QBR | 89 | Slightly Overrated |
| Matt Schaub | 1650-63.1%-10TD-4INT-66.5QBR | 89 | —– |
| Philip Rivers | 1646-64.6%-10TD-9INT-35.7QBR | 89 | Vastly Overrated |
| Michael Vick | 1823-59.0%-9TD-8INT-53.3QBR | 89 | Overrated |
| Matthew Stafford | 2108-63.3%-8TD-7INT-62.8QBR | 88 | —– |
| Cam Newton | 1701-57.1%-5TD-8INT-39.1QBR | 88 | Vastly Overrated |
| Jay Cutler | 1545-58.1%-9TD-8INT-51.2QBR | 87 | Slightly Overrated |
| Alex Smith | 1659-69.4%-12TD-5INT-70.7QBR | 87 | Underrated |
| Robert Griffin III | 1778-66.8%-8TD-3INT-70.9QBR | 87 | Underrated |
| Carson Palmer | 1941-60.2%-9TD-5INT-51.9QBR | 84 | Slightly Overrated |
| Andrew Luck | 1971-55.6%-8TD-8INT-72.2QBR | 84 | Underrated |
| Josh Freeman | 1800-55.2%-14TD-5INT-48.1QBR | 83 | —– |
| Andy Dalton | 1831-64.2%-13TD-10INT-52.7QBR | 83 | —– |
| Ryan Fitzpatrick | 1435-61.0%-15TD-9INT-48.2QBR | 82 | —– |
| Sam Bradford | 1797-61.4%-8TD-7INT-46.1QBR | 81 | Slightly Overrated |
| Matt Hasselbeck | 1167-63.8%-6TD-4INT-53.6QBR | 81 | Slightly Underrated |
| Russell Wilson | 1466-61.4%-10TD-8INT-53.0QBR | 79 | Slightly Underrated |
| Kevin Kolb | 1169-59.6%-8TD-3INT-38.0QBR | 78 | Overrated |
| Mark Sanchez | 1736-52.9%-10TD-8INT-32.2QBR | 78 | Vastly Overrated |
| Ryan Tannehill | 1472-59.1%-4TD-6INT-53.4QBR | 78 | Underrated |
| Christian Ponder | 1743-65.3%-10TD-7INT-53.1QBR | 78 | Underrated |
| Matt Cassel | 1368-59.7%-6TD-10INT-41.7QBR | 77 | Overrated |
| Brandon Weeden | 1912-55.2%-9TD-10INT-19.5QBR | 76 | Vastly Overrated |
| Blaine Gabbert | 1209-55.6%-7TD-3INT-43.3QBR | 75 | —– |