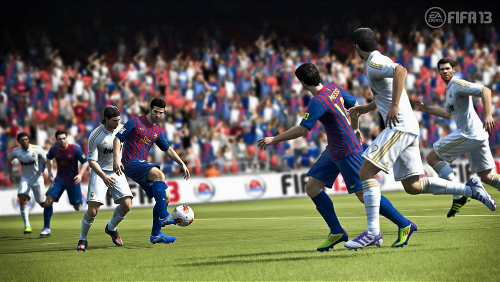 The past three years have brought about unprecedented growth in sales for the FIFA franchise. Each iteration (both worldwide and in North America) has set new high sales marks only to have them obliterated by the next year's release. That continues with FIFA 13 which opened huge and has continued to expand beyond even the most optimistic of expectations. 
FIFA 13 sold 7.4 million copies in its first month worldwide and in every frame of reference to this point can be described as the fastest selling sports game in history. That number completely toasts the previous record for a sports game of FIFA 12's 5 million in the first month. FIFA 13 opened with 4.5 million in its first five days alone, became the first non-COD game ever in the UK to move over 1 million in its first week, and was higher by 42% in North America where uptake of the sport and the video game representation have been improving dramatically.
EA Sports also announced that over $65 million in digital revenue has been made from FIFA 13 with Ultimate Team mode being the primary driver of success in that area. FIFA 12 made well over $100 million through digital revenue and FIFA 13 is well ahead of the pace set there.