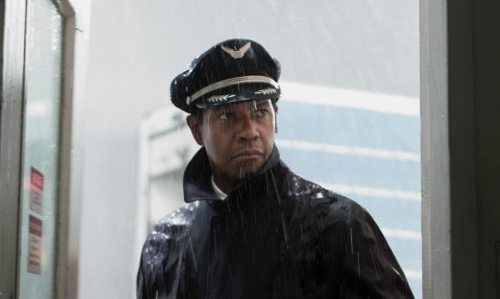 In his first return to live-action since Cast Away in 2000 director Robert Zemeckis tackles a dramatic circumstance of a pilot (played by Denzel Washington) who crash lands a plane and then is put under the spotlight for his state of mind during the incident in Flight. It's a film that has some great performances, an incredibly vivid and tense crash sequence, but is plagued by some heavy-handedness when it comes to the faults of the pilot in question.
There is an interesting dilemma as a viewer of Flight as the main character is simultaneously a hero, someone natural to root for, but plagued by demons outside of the cockpit. He's not particularly likable despite there being events along the way that occur that provide some glimpses of potential redemption. That is not necessarily a bad thing – often the most compelling characters make audiences conflicted in their feelings towards them – but in this case it just proved to be especially difficult to get past.
Washington has his typically impressive screen presence and conveys the struggles and darkness behind his character exceedingly well. Supporting roles from Bruce Greenwood, Don Cheadle, and Kelly Reilly are very strong as well. Only John Goodman's turn as an over-the-top resource providing friend (outside of one very funny quip) stood out as unnecessary and overly silly in an otherwise totally serious film.
Alcoholism (among other substances) becomes a focus that is critical and suitably stressing yet cringe-worthy in the end due a number of cliches. Events towards the end became predictable but also went to show the powerful nature of the inner-struggles at hand. Flight is well paced and driven by the performances but ultimately deflates following the impressive crash sequence.
Rating: