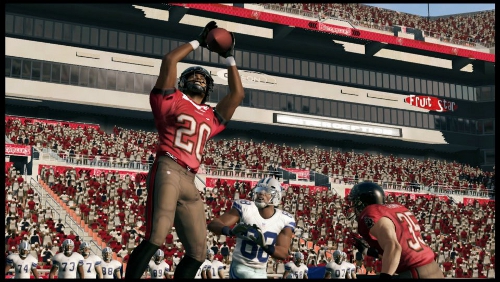 EA Sports today released an official trailer for the Nintendo Wii U version of Madden NFL 13. The game is set to release next week in advance of the console arriving on Sunday, November 18.
There has been very little in the way of promotion when it comes to the upcoming sports titles for the Wii U from either EA (Madden, FIFA 13) or 2K Sports (NBA 2K13). For the most part the games are offering a few ways in which to take advantage of the tablet controller while omitting some features that consumers have found valuable with the Xbox 360 and PS3 versions of the games. It's a trade-off that the companies are willing to accept as they understand the user base for the console will be constrained in the early months and sports games may fail to gain traction in the long run similar to the struggles had with the Wii.
If you missed it earlier here is the features list which of course discusses what is in the game and not what isn't. That includes the "Infinity Engine" physics and Ultimate Team mode. Continue on to check out the trailer which spotlights the features along with some (non-Infinity Engine) glimpses of the game in action through replays.