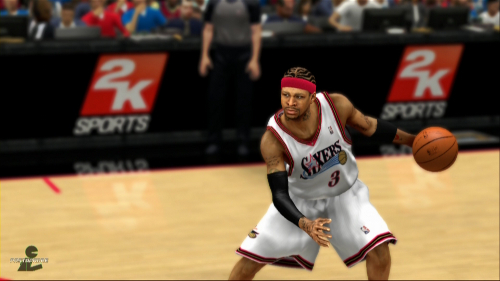 In what comes as absolutely no surprise NBA 2K13 carried the month of October by topping the sales charts with no other game even close behind. NBA 2K12 was adversely affected by the lockout as sales fell off significantly until the league returned so the proper comparison to make is with 2K11 which opened by moving just over 1 million copies its first month. 
NBA 2K13 opened with 1.27 million sales for the month and that is up 19% compared to the same period with 2K11. It's not the 49% that it began its first week with but that pace was unsustainable. 2K11 was a phenomenon with unprecedented legs and once the series became so widely adopted it was inevitable that it would become more front-loaded.
The association with Jay-Z has to be considered as a major factor in the sales increase. His name and credibility alone, and the coverage that came with it, increased awareness and tapped into another segment of consumers that may not have had the game on their radar otherwise. For the first time the NBA 2K series featured an exclusive preorder incentive with the All-Star Weekend content. That helped to propel day one sales and in turn has also contributed to the sharper drop-off in the weeks that followed.
Madden NFL 13 finished in 6th place continuing its strong performance as sales are well ahead of last year and FIFA 13, which has become the fastest selling sports game in history worldwide, finished up in 7th place in North America for the month. Both sold upwards of 400K in their second month on the market. As anticipated NHL 13 fell out of the top 10 with the league lockout affecting turnout from consumers who weren't motivated to buy it immediately upon release.