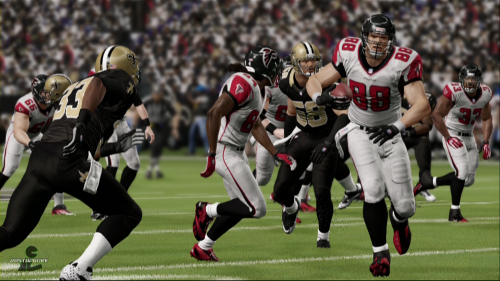 Week 10 of the NFL season is now in the books and it was one in which a number of quarterbacks got knocked out due to injury. With the Eagles season pretty much over Michael Vick may not see the field again as Nick Foles takes over. How much time Ben Roethlisberger, Alex Smith, and Jay Cutler miss is still undetermined.
The next update for Madden NFL 13 will move Brian Bulaga and Nick Perry to the IR, represent the suspension for Brandon Bolden, and have the Falcons release of Ray Edwards.
Those with big performances this week include Calvin Johnson who did enough to at least prevent sliding down from his 98 rating, Golden Tate, Tim Jennings, Danieal Manning, Demaryius Thomas, Danny Amendola, Tony Gonzalez, Lavonte David, Richard Sherman, Von Miller, and Derrick Johnson. A number of quarterbacks struggled and could merit a drop in ratings such as Blaine Gabbert, Mark Sanchez, Eli Manning, Cam Newton, and Ryan Tannehill. David Akers and Morris Claiborne also had down weeks.
As always leave your thoughts in the comments on what players should see a rise or fall in their ratings in the next Madden NFL 13 roster update!