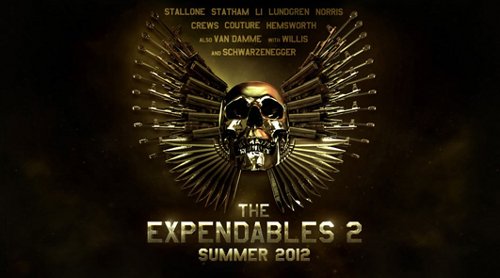 The Expendables 2
The cast of The Expendables, with newest members Billy the Kid and Maggie aboard, are reunited when Mr. Church enlists the Expendables to take on a seemingly simple job. The task looks like an easy paycheck for Barney and his band of old school mercenaries. But when things go wrong and one of their own is viciously killed, the Expendables are compelled to seek revenge in hostile territory where the odds are stacked against them.

Santa Paws 2: The Santa Pups
An all-new Disney holiday classic is born — Santa Paws 1: The Santa Pups Starring a brand-new litter of the cutest talking pups ever — Hope, Jingle, Charity and Noble — it's perfect for the whole family. When Mrs. Claus travels to Pineville, the playful Santa Pups stow away on her sled. Taking mischief to a whole new level, they begin granting joyful wishes to Pineville's boys and girls, but something goes terribly wrong — the Christmas spirit begins to disappear. Now the Santa Pups and Mrs. Claus must race to save Christmas around the world. From the creators of Disney Buddies, this magical, heartwarming tale is brimming with hope, cheer and Christmas spirit.

Dragons: Riders of Berk
Buckle up for more high-flying action and fire-breathing fun with this thrilling debut of the animated TV series based on the Academy Award-nominated hit movie How To Train Your Dragon! The epic story of Hiccup, Toothless, and his fearless friends continues with 4 explosive episodes filled with all-new adventures and exciting, never-before-seen dragons.

Tarantino XX 8-Film Collection
Tarantino XX contains eight films chosen by Tarantino to illustrate the first 20 years of his career, featuring the films that helped define his early success, including Reservoir Dogs, True Romance, Pulp Fiction, Jackie Brown, Kill Bill Vol. 1, Kill Bill Vol. 2, Death Proof and Inglourious Basterds. To complete the stunning high definition 10-disc set, the Tarantino XX: 8-Film Collection also features two discs with five hours of all-new bonus material, highlighted by a critics' retrospective on Tarantino's groundbreaking catalog of films and "20 Years of Filmmaking" that contains interviews with critics, stars and other masters of cinema.

Ancient Aliens: Season 4
Could natural disasters really be the work of extraterrestrial forces? In 2011, after a 30-foot tsunami ravaged Tohoku, Japan, the local media reported more than 1,000 UFO sightings over the inundated shoreline. Did otherworldly beings that descended from the sky have anything to do with the abrupt disappearance of the Mayans? Does the Mayan Long Count Calendar, in which the world ends on December 21st, 2012, give credence to the Doomsday Prophecies? Are Grey Aliens real? Many have claimed to have been visited and even abducted by them. Is NASA sharing all that it knows about the universe? Or are they protecting us from the truth? ANCIENT ALIENS SEASON FOUR continues to examine 25 thousand years of the most credible alien evidence here on earth.

Ken Burns: The Dust Bowl
The Dust Bowl chronicles the worst man-made ecological disaster in American history, when a frenzied wheat boom on the southern Plains, followed by a decade-long drought during the 1930s, nearly swept away the breadbasket of the nation. Menacing black blizzards killed farmers' crops and livestock, threatened the lives of their children, and forced thousands of desperate families to pick up and move somewhere else. Vivid interviews with more than two dozen survivors of those hard times, combined with dramatic photographs and seldom seen movie footage, bring to life stories of incredible human suffering and equally incredible human perseverance. The Dust Bowl, a four-hour, two-episode documentary from acclaimed filmmaker Ken Burns, is also a morality tale about our relationship to the land that sustains us—a lesson we ignore at our peril.

Doctor Who: Limited Edition Gift Set
BBC brings you the Doctor Who Limited Edition Gift Set just in time for the holiday season! This limited edition Doctor Who collector's box will be the ultimate holiday gift for Doctor Who fans! It includes the complete seasons 1-6 covering the 9th, 10th and 11th Doctors (Christopher Eccleston, David Tennant, and Matt Smith), over 70 hours in all, plus hours and hours of bonus features including 3 new Doctor Specials coming to DVD for the first time ever. The set also includes a collectible 11th Doctor Sonic Screwdriver, 3 original art cards and the comic book, Doctor Who at Comic Con. It's a Doctor Who dream come true.

Attitude Era (WWE)
Bust out your Austin 3:16 shirt, strike a 5-second pose, heat up a delicious slice of pie and countdown to Y2J all over again with The Attitude Era. Go back to the days of debauchery when radical antiheroes ditched saying their prayers and taking their vitamins for opening up a can of whoop ass and laying the SmackDown; when rebels ruled the airwaves and PG stood for puppies and grapefruits. This 3-disc slobberknocker is packed with all the action that pushed censors to new limits, shattered cable TV ratings and crushed WWE's competition like a Spanish announcer's table. Featuring: The Austin/McMahon rivalry. The invention of Hell in a Cell, TLC, Brawl for All and more. The revamping of Superstars' entrance music. All the top stars such as The Rock, Stone Cold Steve Austin, Mick Foley (all three of them!), DX, Undertaker, Edge & Christian, Chris Jericho, Trish Stratus, The McMahons, Kane, The APA, Sable, Goldust, Val Venis, and more!

Transformers Prime: Season 2
Unicron is defeated, but what was thought to be the end of the Autobots' darkest hour is actually proving to be just the beginning! The centuries-old war rages on, pitting Optimus Prime (Peter Cullen) and his team of heroic Autobots, alongside their most trusted human allies, Jack, Miko, Raf and Special Agent Fowler (Ernie Hudson, Ghostbusters) against Megatron (Frank Welker) and his nefarious Decepticons. The action heats up with a boldly exciting climax you absolutely have to see to believe! From Roberto Orci and Alex Kurtzman, the writing team behind the megablockbuster Transformers feature films, and executive producer Jeff Kline comes a brand-new season of the Emmy Award winning series that Crave Online describes as the show die-hard fans have always wanted. Now you can catch all 26 episodes of the outrageous second season!

Game of Thrones: Season 1 Collector's Edition
This limited edition set offers Blu-ray/DVD Combo + Digital Copy versions of the first season of the series and more. The collector's box set is adorned with the sigils of the four main houses and comes with a premium dragon egg paperweight, a Blu-ray bonus disc of first episode of season two as well as all of the bonus materials and interactive features from the original DVD and Blu-ray releases. Summers span decades. Winters can last a lifetime. And the struggle for the Iron Throne has begun. It will stretch from the south, where heat breeds plots, lusts and intrigues; to the vast and savage eastern lands; and all the way to the frozen north, where an 800-foot wall of ice protects the kingdom from the dark forces that lie beyond. Kings and queens, knights and renegades, liars, lords, and honest men…all will play the Game of Thrones.