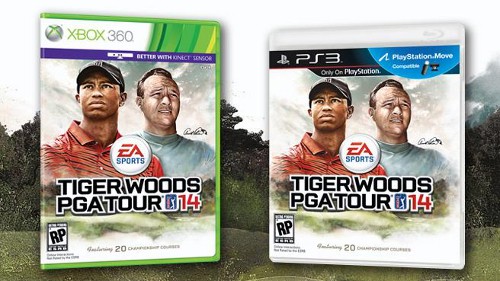 Last week EA Sports announced the cover for Tiger Woods PGA Tour 14 along with the first insight into the features and Historic Edition. In addition the retailer exclusive pre-order incentives have now been revealed. 
•Amazon: Bethpage Black DLC Course
•Best Buy: 1986 Jack Nicklaus Exclusive Character
•Gamestop: Pinehurst No. 2 DLC Course
•Origin: Set of Exclusive Historic Golf Clubs
•Target: Whistling Straits DLC Course
•Walmart: Kevin Love and Andy Roddick Exclusive Characters
The inclusion of a classic Jack Nicklaus and set of golf clubs is another indication that there could be some sort of historic mode in the game whether more legendary golfers from the past besides Nicklaus and Arnold Palmer are involved. Walmart clearly got the shaft out of this group with an embarrassing offering. The courses will probably be available to purchase as DLC at release or soon after making the most appealing options when it comes solely to the bonuses to go though Best Buy or Origin.