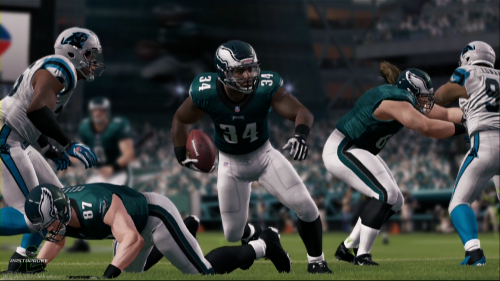 Typically a team in such a strong position wouldn't do so but the 49ers are shaking things up by going with Colin Kaepernick and that has paid off in the last two games and given their offense a much more dynamic look. Meanwhile the Steelers are struggling mightily without Ben Roethlisberger….injuries have even caused them to turn to Plaxico Burress for help. DeSean Jackson, Blaine Gabbert, Willis McGahee, Laurent Robinson, Jared Gaither, Kendall Hunter, and Kyle Williams will be hitting the IR in the next roster update for Madden NFL 13 while David DeCastro will be making his debut and Jason Babin has been released.
Some of the biggest performers this week were Bryce Brown in place of the injured LeSean McCoy, Robert Griffin III, Russell Wilson, Cam Newton, Andre Johnson, Ryan Broyles, Mohamed Sanu, J.J. Watt, Mario Williams, and Zach Brown. Names like Mark Sanchez, Bart Scott, and Kurt Coleman are likely to drop – really whole teams like the Jets and Eagles should be impacted even more at this point of the season.
As always leave any thoughts in the comments as to what players should get ratings consideration in the next Madden NFL 13 roster update, whether up or down, in the comments!