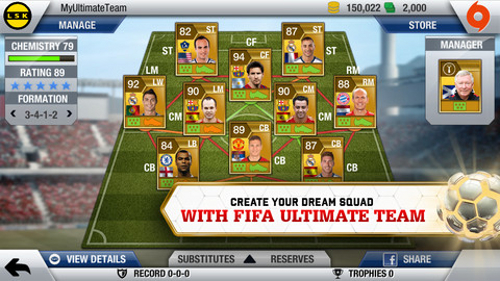 For the first time EA Sports has extended an Ultimate Team mode into a mobile offering. An update released today for FIFA 13 on the iPhone, iPod touch, and iPad adds the team-building mode along with "Game Center" achievements and leaderboards and some general improvements to gameplay and controls. FIFA 13 has yet to be released for Android. 
Now take control and build your dream squad with FIFA Ultimate Team. Choose your play style, formation, kits, and more. The possibilities are endless. We've also added Game Center and made behind-the-scenes fixes to improve overall gameplay, including enhancements to controls.

With FUT, you can:

• Build and manage your own team.
• Manage player morale and fitness to reap more rewards.
• Play for free or purchase packs and choose from over 10,000 players.
• Trade and sign new players to enhance team chemistry.
• Watch as your players improve to match their real-life performance on the world stage of football.

PLUS, dominate on and off the pitch with Game Center achievements and leaderboards. Please make sure you have around 3.4 GB of free space on your device – you'll need it to perform this update (once updated, FIFA 13 will take up about 1.7 GB of space).
It's been a week filled with Ultimate Team news as EA Sports attempts to further leverage the big revenue generator. Mobile and social games have featured already featured microtransactions but transferring over the full Ultimate Team experience is a new development.