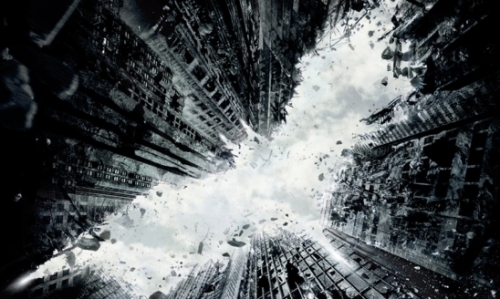 The Dark Knight Rises
It has been eight years since Batman vanished into the night, turning, in that instant, from hero to fugitive. Assuming the blame for the death of D.A. Harvey Dent, the Dark Knight sacrificed everything for what he and Commissioner Gordon both hoped was the greater good. For a time the lie worked, as criminal activity in Gotham City was crushed under the weight of the anti-crime Dent Act. But everything will change with the arrival of a cunning cat burglar with a mysterious agenda. Far more dangerous, however, is the emergence of Bane, a masked terrorist whose ruthless plans for Gotham drive Bruce out of his self-imposed exile. But even if he dons the cape and cowl again, Batman may be no match for Bane.

The Dark Knight Trilogy
Includes Batman Begins, The Dark Knight, and The Dark Knight Rises.

Finding Nemo Collector's Edition
Sea it like never before! For the first time ever, through the magic of Blu-ray and Blu-ray 3D, fully immerse yourself in the stunning underwater world of Disney/Pixar's FINDING NEMO! From the creators of TOY STORY and MONSTERS, INC., this critically acclaimed and heartwarming tale splashes off the screen with brilliant digital picture, high definition sound and breathtaking interactive 3D bonus features that transport you beyond your imagination. In the depths of the Great Barrier Reef, Marlin (Albert Brooks), an overly protective clownfish, embarks on a daring rescue mission when his beloved son, Nemo, gets scooped up by a diver. With his unforgettable friend Dory (Ellen DeGeneres) by his side, Marlin encounters an ocean full of memorable comedic characters on his momentous journey to find Nemo. Bring home the humor and heartfelt emotion of the epic adventure that captured the Academy Award for "Best Animated Feature Film" (2003) — now more awesome than ever on Disney Blu-ray 3D! It's Magic In A New Dimension!

Hope Springs
Kay (Meryl Streep) and Arnold (Tommy Lee Jones) are a devoted couple, but decades of marriage have left Kay wanting to spice things up and reconnect with her husband. When she hears of a renowned couple's specialist (Steve Carell) in the small town of Great Hope Springs, she attempts to persuade her skeptical husband, a steadfast man of routine, to get on a plane for a week of marriage therapy. Just convincing the stubborn Arnold to go on the retreat is hard enough – the real challenge for both of them comes as they try to re-ignite the spark that caused them to fall for each other in the first place.

Halo 4: Forward Unto Dawn
Halo 4: Forward Unto Dawn is a live-action digital series based on the best-selling Xbox franchise that brings a brand-new Halo story to life on a scale never before seen in the Halo universe. Halo 4: Forward Unto Dawn delivers an exciting story of heroism and sacrifice, taking fans back to the beginning of the human and Covenant war and leading into the events of Halo 4, the biggest entertainment event of 2012. Set against the backdrop of a United Nations Space Command (UNSC) military academy, a group of highborn cadets are training to be the next generation of soldiers in the UNSC s ongoing war with insurrectionists in the outer colonial planets. Among these cadets, Thomas Lasky struggles with his doubts about this war and with the burden of expectations he may not be able to carry. As Lasky comes to terms with his potential as a military leader, the terrifying alien alliance known as the Covenant arrives and turns his world upside down. Inspired by the Master Chief, he must decide what it means to be a hero. Halo fans who experience Lasky s thrilling origin story in Halo 4: Forward Unto Dawn will be rewarded with special insights into the story of Halo 4 and the Halo Infinity Multiplayer experience.

The Odd Life of Timothy Green
Disney brings enchantment home with The Odd Life Of Timothy Green, an inspiring, magical story for the whole family starring Jennifer Garner. Cindy (Garner) and Jim Green are a happily married couple who can't wait to start a family but can only dream about what their child would be like. When young Timothy shows up on their doorstep one stormy night, Cindy and Jim – and their small town of Stanleyville – learn that sometimes the unexpected can bring some of life's greatest gifts. From Academy Award-nominated director/writer Peter Hedges (About A Boy, Best Adapted Screenplay, 2002; Dan In Real Life; What's Eating Gilbert Grape?), it's a heartwarming celebration of family as only Disney can deliver.

Beasts of the Southern Wild
Teeming with magic, beauty and pure joy, this crowd-pleasing winner at the Sundance Film Festival has emerged as one of the year's most acclaimed films. Newcomer Quvenzhan' Wallis delivers an "Oscar-worthy performance" as Hushpuppy, the six-year-old force of nature in an isolated bayou community. When her tough but loving father Wink (Dwight Henry) succumbs to a mysterious malady, the fierce and determined girl bravely sets out on a journey to the outside world. But Hushpuppy's quest is hindered by a "busted" universe that melts the ice caps and unleashes an army of prehistoric beasts.

Thunderstruck
When Brian, a hopelessly uncoordinated young fan magically switches talents with his basketball hero (NBA Superstar Kevin Durant, playing himself), he becomes the star of his high school team while Kevin Durant suddenly can't make a shot to save his life. But with the playoffs approaching, Brian learns that being a true winner involves working hard at your own game, and he tries to make things right in time to prevent a catastrophic end to his hero's season.

Last Ounce of Courage
Bob Revere (Marshall Teague), a small-town war hero, is heartbroken when his own son Tom loses his life defending America. Tom left behind a son of his own named Christian, and 14 years later, the young boy and his mother move back to the small town to be with their family for the holidays. Christian disconnects with his grandfather Bob, as they both are going through the pain of losing a dad and losing a son. When Christian is threatened with school suspension for bringing his bible to school, Bob notices that his country is headed in a dangerous direction and that freedom itself is on the line. Encouraged by his grandson Christian, who asks "what did his father die for?", Bob finally takes a stand for his beliefs and finds himself jailed for putting up the town's Christmas tree and refusing to take it down. In this beautiful story of love and forgiveness, they discover a way to unite and to make a difference in their community by claiming their freedom and standing up for their rights.

Eastbound and Down (Season 3)
Eastbound & Down follows deluded, burned-out, former major-league pitcher named Kenny Powers, who after fleeing his hometown in North Carolina spent a soul-searching season 2 in Mexico as "La Flama Blanca" – and ended up returning to the States a changed man. Or is he? Picking up a year after Season 2 ends, the still-audacious Kenny brings his "f*#ked up behavior" to Myrtle Beach, SC – a tourist destination filled with fireworks stores, mini-golf and underage boozing – and somehow resurrects his baseball career as the closer for the minor-league Myrtle Beach Mermen. Even as he postures himself as the King of Myrtle Beach, Kenny struggles to come to terms with growing older, both in his personal life, and professionally with the arrival of up-and-comers (including a Russian pitcher) who challenge him in the league. Along the way, he befriends a veteran catcher named Shane (Jason Sudeikis of Saturday Night Live), a kindred spirit who ends up teaching Kenny a cautionary lesson about overindulgence.