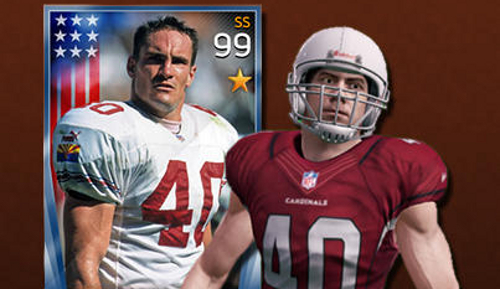 While Madden Ultimate Team mode features various legends the introduction of a former player today marks the first time that one has been added essentially in the form of a tribute. Pat Tillman is being made available, with the support of the foundation set up in his name, within Ultimate Team beginning this evening as multiple cards of his go live.
Tillman of course played for the Arizona Cardinals from 1998-2001 before leaving his football career to serve in the Army. He died in 2004 from apparent friendly fire in Afghanistan.
EA appears to be making it relatively easy to acquire Tillman. An 85 overall rated version is being placed in the Card Deals for just 40 coins. A 99 rated version could be found in Legend packs with three other limited edition (red, white, blue) also available. It is currently unclear just how long his cards will remain in circulation within the deals and card packs before the Auction House will be the only way to find them.