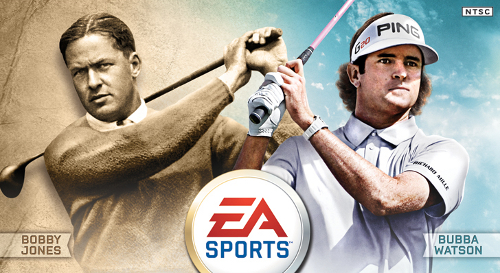 EA Sports has now officially announced (Tiger Woods 14) The Masters: Historic Edition which was first discovered three weeks ago. Going for $70 and with six extra courses included the Historic Edition features Bobby Jones and Bubba Watson on the cover. 
For the second straight year Tiger Woods does not appear on the cover of the special edition of his own game. EA continues to distance themselves from him following the hit his image took, which adversely affected sales, and his drop-off in performance. Covers since then have featured Woods along with another golfer and special editions without him appearing at all.
Even more odd is the way in which the cover presents the name which could suggest a gradual move towards changing it down the line. It would appear the game is titled Masters with the notation that it also "includes" Tiger Woods 14 at the bottom…as though that is some completely secondary pack-in. Check out the complete cover here.
Arnold Palmer, who appears on the standard edition cover along with Woods, will be playable in all versions. Bobby Jones however will be exclusive to the Historic Edition. If the past is any indication though just about everything including him will be made available as DLC.
Historic Edition Bonus Courses
•Augusta Par 3: The smaller course at the legendary Augusta National Golf Club. Home of the annual Par-3 contest held the same week as the Masters.
•Augusta 1934: Travel back to the golden age of golf and the very first Masters Tournament on the hallowed grounds of Augusta Golf Club.
•County Down: Play the charming and challenging holes on one of Ireland's oldest and most noted courses.
•Birkdale: Awarded "Royal" status in 1951 and host to several Open Championships, Birkdale remains one of one of the great classic British clubs.
•Sheshan Golf Club: One of Shanghai's premier courses, Sheshan boasts an elegant layout that embraces a mix of the old and new.
•TPC Blue Monster: This prestigious and spectacular course has hosted PGA TOUR events for more than 50 years, made famous by its numerous water hazards and signature 18th hole fountain.