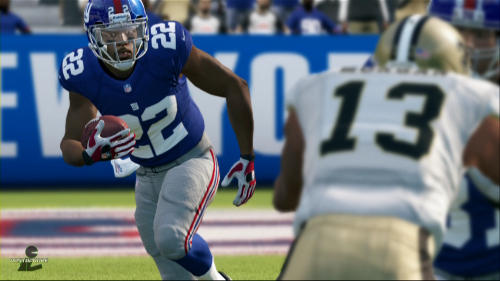 The next roster update for Madden NFL 13 should provide even more separation between playoff caliber teams and those packing it in for the year already. Some injuries that will have significant influence on the rosters occurred with Dez Bryant and Fred Jackson both possibly done for the year while Robert Griffin III appears to have dodged a bullet and may not miss a game. Percy Harvin and Dwayne Bowe though are headed to the IR.
Both Von Miller and Tom Brady may have done enough to get up to 99 overall. Brady just fell by a point last week so he was teetering on the edge anyway while Miller has been steadily building up that direction all season. Names with big weeks include David Wilson, Richard Sherman, Nick Foles, Cam Newton, Brandon Marshall, Cameron Wake, Bobby Wagner, Vince Wilfork, Aaron Hernandez, Stevie Brown, Michael Bennett, Geno Atkins, Michael Brockers, Denario Alexander, Vontae Davis, and Derrick Morgan. Some names who could see a drop are Drew Brees, A.J. Green, Matt Schaub, Jay Cutler, Christian Ponder, and Michael Turner. The Arizona Cardinals as a team should have their ratings axed in dramatic fashion.
As always leave your thoughts in the comments on what players or teams are deserving of ratings attention, whether that be up or down, with the next Madden NFL 13 roster update!