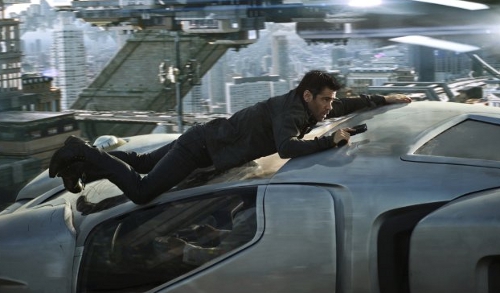 Total Recall
Welcome to Rekall, the company that can turn your dreams into real memories. For a factory worker named Douglas Quaid (Colin Farrell), even though he's got a beautiful wife (Kate Beckinsale) who he loves, the mind-trip sounds like the perfect vacation from his frustrating life – real memories of life as a super-spy might be just what he needs. But when the procedure goes horribly wrong, Quaid becomes a hunted man. Finding himself on the run from the police – controlled by Chancellor Cohaagen (Bryan Cranston), the leader of the free world – Quaid teams up with a rebel fighter (Jessica Biel) to find the head of the underground resistance (Bill Nighy) and stop Cohaagen. The line between fantasy and reality gets blurred and the fate of his world hangs in the balance as Quaid discovers his true identity, his true love, and his true fate.

Pitch Perfect
Arriving at her new college, Beca (Anna Kendrick) finds herself not right for any clique but somehow is muscled into one that she never would have picked on her own: alongside mean girls, sweet girls and weird girls whose only thing in common is how good they sound when they sing together. When Beca leads this a cappella singing group out of their traditional arrangements and perfect harmonies into all-new mash-ups, they fight to climb their way to the top of college music competitions.

Premium Rush
Dodging speeding cars, crazed cabbies, open doors, and eight million cranky pedestrians is all in a day's work for Wilee (Joseph Gordon-Levitt), the best of New York's agile and aggressive bicycle messengers. It takes a special breed to ride the fixie – super lightweight, single-gear bikes with no brakes and riders who are equal part skilled cyclists and suicidal nutcases who risk becoming a smear on the pavement every time they head into traffic. But a guy who's used to putting his life on the line is about to get more than even he is used to when a routine delivery turns into a life or death chase through the streets of Manhattan. When Wilee picks up his last envelope of the day on a premium rush run, he discovers this package is different. This time, someone is actually trying to kill him.

Trouble With The Curve
Gus Lobel (Clint Eastwood) has been one of the best scouts in baseball for decades, but, despite his efforts to hide it, age is starting to catch up with him. Nevertheless, Gus-who can tell a pitch just by the crack of the bat-refuses to be benched for what may be the final innings of his career. He may not have a choice. The front office of the Atlanta Braves is starting to question his judgment, especially with the country's hottest batting phenom on deck for the draft. The one person who might be able to help is also the one person Gus would never ask: his daughter, Mickey (Amy Adams), an associate at a high-powered Atlanta law firm whose drive and ambition has put her on the fast track to becoming partner. Against her better judgment, and over Gus's objections, Mickey joins him on his latest scouting trip to North Carolina, jeopardizing her own career to save his.

Resident Evil: Retribution
The Umbrella Corporation's deadly T-virus is spreading across the globe transforming ordinary people into legions of zombies. Headed for extinction the human race has just one hope: Alice (Milla Jovovich). She's on a mission fighting her way through cities and across continents all inside Umbrella's prime research facility. Old friends become new enemies as she battles to escape and discovers that everything that she believes may not even be true.

The Words
"There's more than one way to take a life…" and THE WORDS couldn't be truer. Rory Jansen (Bradley Cooper) has achieved his every goal: a loving wife critical success and a best-selling novel. The only problem is he didn't write it. Now as his conscience starts to haunt him and his past wrongs are revealed it's difficult to tell fact from fiction. Jeremy Irons Dennis Quaid Olivia Wilde Ben Barnes and Zoe Saldana star in this romantic thriller that keeps you guessing until the very end.

Diary of a Wimpy Kid: Dog Days
Everybody's favorite wimp, Greg Heffley (Zachary Gordon), is back for three times the fun in the latest film based on the super-popular book series! When Greg's dad (Steve Zahn) threatens to send him to military school if he doesn't stay out of trouble, Greg finds all-new ways to land himself in the doghouse! For starters, Greg's in over his head when he pretends to work at the swanky country club where Rowley's family has a membership. Things don't go much better on a father-son camping trip with the Wilderness Explorers, and then there's the Heffley's new dog, Sweetie, who fetches even more trouble for Greg in this hilarious family film!

Arbitrage
Dynamic performances by Richard Gere and an all-star cast highlight this riveting, suspense-filled thriller about love, loyalty, and high finance. Robert Miller (Gere) is a New York hedge-fund magnate who appears to have it all – money, power, a loving wife (Susan Sarandon), and a devoted daughter (Brit Marling) working by his side. But behind the gilded walls of his mansion Miller is running on borrowed time, trying to unload his crippled trading company before his frauds are revealed. A deadly error throws Miller's "perfect life" into a tailspin, raising the suspicions of a detective (Tim Roth) and threatening the future of his financial empire. As the line blurs bet ween what is right and wrong, legal and criminal, Miller is driven to desperate measures to protect the only thing more precious than his considerable fortune: his family.

Killer Joe
"Killer" Joe Cooper (Matthew McConaughey) is a Dallas detective who doubles as a hit-man, with the charm of a Southern gentleman. Chris (Emile Hirsch) hires Joe to kill his mother, in order to collect her life insurance and pay off his debts. When Chris is unable to pay for the service up front, Joe takes Chris's sister Dottie (Juno Temple) as a retainer until he can be paid.

10 Years
In this ensemble comedy, 10 Years follows a group of friends on the night of their high school reunion who, still haven't grown up. Channing Tatum is Jake: deeply in love with his girlfriend (Jenna Dewan-Tatum) and ready to propose—until he runs into his high school flame (Rosario Dawson). Jake's friend Cully (played by funnyman Chris Pratt), married his cheerleader girlfriend (Ari Graynor), and has been looking forward to the reunion so he can finally apologize to all the classmates he bullied. Longtime rivals Marty (Justin Long) and Garrity (Brian Geraghty) pick up right where they left off, vying to impress the hottest girl in class (Lynn Collins). Reeves (Oscar Isaac) graduated a band geek, became a rock star, and knows tonight is his chance to finally talk to the secret crush (Kate Mara).

Shameless: Season 2
Season Two of Showtime's boldest bravest series dives headfirst into the sweltering heat of a Chicago summer grabs Gallagher family life by the throat and never lets go. Boozed-up Frank's scams constantly fizzle. Grammy Gallagher visits after a stint in prison. Bipolar Monica returns to fan Frank's flames. Hard-working Fiona plays the field.until Steve comes back with a hot new wife. Lip drops out to care for his and Karen's baby. Ian's gunning for West Point. The Gallaghers may lack rent money and toilet paper but there's never a shortage of heart or a moment of shame in this acclaimed drama starring William H. Macy Emmy Rossum and a brilliant ensemble cast.

House of Lies: Season 1
HOUSE OF LIES is a scathing, Corporate America-skewering comedy about a self-loathing management consultant (Academy Awardr nominee Don Cheadle) from a top tier firm who is never above using any means (or anyone) necessary to get his way with and for his clients.

Californication: Season 5
Sophisticated and unique, this comedy centers on novelist Hank Moody (David Duchovny) who struggles to raise his 13-year-old daughter, while still carrying a torch for his ex-girlfriend. His obsession with truth-telling and self destructive behavior drinks drugs and relationships are both destroying and enriching to his career.