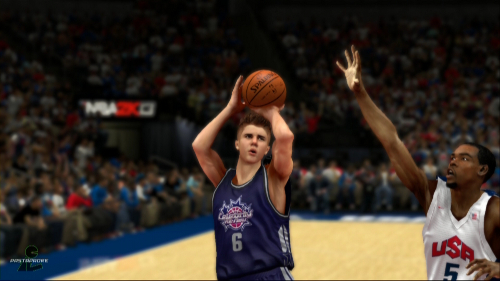 Those following news on NBA 2K13 leading up to release heard an awful lot about Jay-Z being the "executive producer" for the product and that was precisely how 2K Sports planned it. The reach that he provided, and having other celebrities in tow to spread word on the game, led to the best opening sales numbers for the series in history.
The NBA 2K franchise has taken an unconventional sales trajectory this generation. There was the absolute explosion of NBA 2K11, which followed a gradual build over the prior few iterations, that was credited to the involvement of Michael Jordan and inclusion of historic teams. Instead of the typical follow-up year the league lockout happened and that severely hampered sales for the first two months of NBA 2K12 only to push extra into December and beyond where it recovered as well as anyone could have hoped. NBA 2K13 then released to the highest initial numbers for the series yet, 19% up over 2K11, yet fell more sharply in November than what represents their "second months" in the past.
That is of course to be expected as the drop-off is normal considering the increased popularity. Yearly releases, particularly for sports that follow structured seasons, are more frontloaded than even the most high profile games that hit the market. Their primary relevance carries only for a matter of months and after that they lose most of their appeal. 2K11 and 2K12 demonstrated abnormally strong legs as word of mouth was huge for the former and the excitement over the new season generated a quasi-second release for the latter.
With NBA 2K13 much of the credit for the initial sales surge has to go to Jay-Z. Though many may have found his influence to be minimal what his name being attached did was create a buzz and reach consumers who otherwise may not have followed developments on or cared to buy the product. When the first announcement was made not only did it sweep through social media but huge music and lifestyle sites covered it. Typically those destinations would not have featured much, if anything, relating to a video game such as NBA 2K13. Even the first trailer featured a voiceover with Michael Jordan announcing Jay-Z as "executive producer". It would be difficult to imagine topping what that combo can offer in terms of marketing might.
A celebrity team featured in 2K13 included Justin Bieber, a number of rappers, and some D-list names. Bieber was especially used to get extra discussion going, through Twitter in particular, with his several references to the game and even tweeting out a screenshot of himself that was retweeted and favorited by over 50K people. With over 30 million followers seeing the messages and engaging that is a significant deal. At least him being in the game led to this humorous video. Other reporters and celebs were brought in to cultivate a Twitter feed within MyCareer mode as well which inevitably led to additional real Twitter chatter concerning the game.
Jay-Z picked the soundtrack and had input on the overall look and presentation in the game. He was also said to have convinced Charles Barkley to sign on to be included with the Dream Team. However just being involved made him this year's "Michael Jordan factor" and likely foretells a shift in direction for the series. With 2K Sports minimizing the importance of legends and historic teams in 2K13 it is practically assured that the company will look to capitalize on the promotional reach of entertainers increasingly going forward in order to expand interest in each release beyond just the dedicated basketball fans.
Year in Review
Much more to come throughout the month!
•#7 of 2012: MLB 12: The Show
•#8 of 2012: NHL 13
•#9 of 2012: NCAA Football 13
•#10 of 2012: NFL Blitz
•Vote for the 2012 Community Choice Awards
•Revisiting the Top Stories of 2012: Turning to Entertainers for Marketing Exposure
•Revisiting the Top Stories of 2012: Lawsuits Faced by Electronic Arts
•Revisiting the Top Stories of 2012: Disingenuous Marketing and Unfulfilled Features
•Revisiting the Top Stories of 2012: The Disastrous Road Towards NBA Live 13