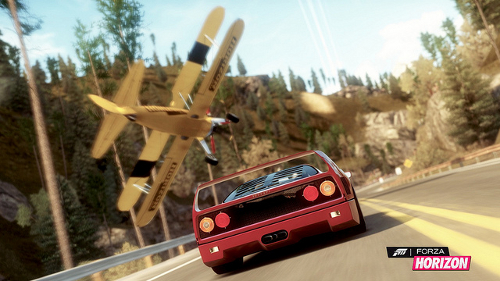 It's rare for a racing game to emerge from an end-of-year list such as this one. Forza Horizon however delivered such a completely pleasant and enjoyable experience that it couldn't be overlooked. Rich in features and fun factor, and with some incredible scenery and ambiance, it is well deserving of recognition. 
The ranking of games in the best of 2012 list is based on number of factors including the personal amount of enjoyment had with a particular title, whether advertised features were fully delivered, post-release support, community interaction and communication, overall gameplay experience, feature set, and online play performance. Again this is largely a personal take and one with the advantage of tracking the games beyond just the release frame and does not act as some sort of recap of those with the highest scores on Metacritic. The analysis is weighted heavily towards those high in fun factor while considering them as a whole and compared relatively to the field.
Though most might classify Forza Horizon as an "arcade racer" it holds some more sim elements that come from the traditional Forza franchise. It's not a Burnout or Need for Speed game but certainly is much more forgiving than a total sim. It makes for an impressive balance between the two in that it is accessible but also rewarding to those who are looking for a truer racing experience. Difficulty can be adjusted and the game rewards those who turn it up higher (or turn off assists) with extra "credits" earned for doing so. Difficulty can be changed on a race to race basis as well.
Graphically the game is stunning with amazing environments through the area in Colorado. Thankfully there is a photo mode to capture some of those moments and the extensive paint shop is available for those who like work on designs for the cars. The music – there are three radio stations that also blast out information – is great as well. A really helpful GPS system makes racing around at high speeds much more manageable. Voice commands relating to the GPS is an additional option for those with Kinect. Xbox SmartGlass will even display a live GPS map on a Windows 8 PC or to iOS/Android/Windows devices.
Variety in races is also excellent. The different types of races and "PR Stunts" keep things fresh while requiring the use of different cars. Racer popularity rewards for driving dangerously so there's even incentive to do so whether in a race or not. Breaking "upgrade" signs placed all around also provides a reduction in the cost of souping up vehicles. "Barn Finds", which contain beaten-up classic vehicles, are fun to search for with that reward in mind. There are even opportunities to race planes, hot air balloons, and helicopters!
Social elements add to a sense of competition. There are "Speed Traps" which capture the speed at that point and then compare to top speeds of those on your friends list. "Speed Zones" are similar though they pull the average speed between two given points. After each race the opportunity arises to race a friend's top time (their ghost) and beating it means winning some extra credits.
The most off-putting thing about Forza Horizon was it's DLC. Announcing a "Season Pass" of downloadable content for $50 was insulting and a big misstep at the time. I wasn't alone in initially passing on the game because of that as the perception immediately becomes that the full package is $110. That is asking way too much for an arcade racer no matter how good it is.
Forza Horizon is a purely enjoyable racing game with great variety through progression that takes place in a sensational environment. Eliminating much of the frustration that comes with games in the genre is admirable while still preventing things from getting too outrageous. It's the most fun I've had with a racing game since Burnout: Revenge.
Year in Review
Much more to come throughout the month!
•#6 of 2012: Forza Horizon
•#7 of 2012: MLB 12: The Show
•#8 of 2012: NHL 13
•#9 of 2012: NCAA Football 13
•#10 of 2012: NFL Blitz
•Vote for the 2012 Community Choice Awards
•Revisiting the Top Stories of 2012: Turning to Entertainers for Marketing Exposure
•Revisiting the Top Stories of 2012: Lawsuits Faced by Electronic Arts
•Revisiting the Top Stories of 2012: Disingenuous Marketing and Unfulfilled Features
•Revisiting the Top Stories of 2012: The Disastrous Road Towards NBA Live 13