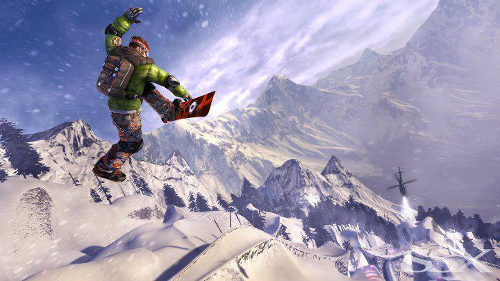 Attempting a reboot of SSX was a daunting task for EA Sports. They faced inevitable backlash due to the inherent nostalgia fans of the series carried – which could naturally have inhibited creativity and use of new technology – and a shrinking base of consumers open to arcade-style games in general. The end result however was the best sports related offering in the first half of 2012. SSX delivered great gameplay, innovation, and superb post-release support.
The ranking of games in the best of 2012 list is based on number of factors including the personal amount of enjoyment had with a particular title, whether advertised features were fully delivered, post-release support, community interaction and communication, overall gameplay experience, feature set, and online play performance. Again this is largely a personal take and one with the advantage of tracking the games beyond just the release frame and does not act as some sort of recap of those with the highest scores on Metacritic. The analysis is weighted heavily towards those high in fun factor while considering them as a whole and compared relatively to the field.
Generally high in fun factor what did detract some were various elements of frustration. The most oft-cited one related to how often falls would occur into voids but there were also occasional issues with orientation and with how artificially difficult some of the Deadly Descents were to complete. Inevitably there was reason to have to restart races so often that they would begin to feel as though they were a hassle to complete successfully. How one handled moments of frustration ultimately determined how much value would be gleaned from the title.
SSX though had a ton to offer content wise and especially with the online components. The gameplay and environments were exhilarating and there was good variety in types of races and on the mountains. The social-based online play succeeded with RiderNet and Geotags pushing players to achieve better results or make things difficult for friends. The "Online Pass" system was also handled better than any other sports game to date offering the ability for those without it to still play online but restricting the in-game "credits" to only those that had one. NASA data was used to craft the mountains and despite having all that great detail the graphics were exceptional and the framerate smooth and consistent. The menus were designed well in a streamlined manner to promote more play.
Post-release support was exceptional especially considering that it wasn't a big seller. DLC was released which included new tracks and characters. Patches and tuners not only addressed some issues but added in new features for free. The most significant patch delivered online races and "freeride" mode.
Though not able to eliminate all elements of frustration SSX was high on fun factor and deserves recognition for excellent design decisions and execution. The post-release support from EA Sports added significant value and that is to be commended especially given weak traction in the marketplace. In most situations that alone would have given a company the reasoning to move on and bury any further support of the product but that didn't happen here. SSX exceeded expectations in many ways making for one of the best experiences of the year.
Year in Review
Much more still to come!
•#4 of 2012: SSX
•#5 of 2012: UFC Undisputed 3
•#6 of 2012: Forza Horizon
•#7 of 2012: MLB 12: The Show
•#8 of 2012: NHL 13
•#9 of 2012: NCAA Football 13
•#10 of 2012: NFL Blitz
•Vote for the 2012 Community Choice Awards
•Revisiting the Top Stories of 2012: The Death of the MLB 2K Series
•Revisiting the Top Stories of 2012: Turning to Entertainers for Marketing Exposure
•Revisiting the Top Stories of 2012: Lawsuits Faced by Electronic Arts
•Revisiting the Top Stories of 2012: Disingenuous Marketing and Unfulfilled Features
•Revisiting the Top Stories of 2012: The Disastrous Road Towards NBA Live 13