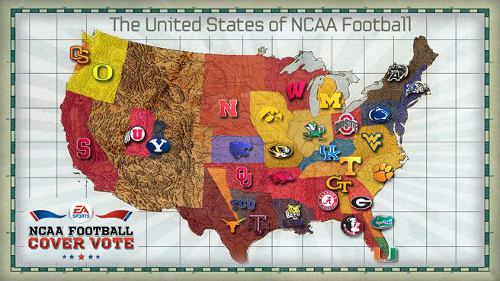 EA Sports has released the latest standings in the first round of the vote for which school will be represented on the cover of NCAA Football 14. Leaping into the #1 spot is Notre Dame followed by Oregon, LSU, Ohio State, and Texas A&M.
In fashion seemingly fitting of the unorganized nature of the process at hand the voting has arbitrarily been extended through next Monday night when the field of 32 moving on will be announced. It had previously been stated that the first round would only run through 12/31. Continue on for a look at the current top 32.
Positioning in just the main poll in parentheses to show how teams have moved.  
1- Notre Dame (6)
2- Oregon (13)
3- LSU (18)
4- Ohio State (9)
5- Texas A&M (3)
6- Nebraska (4)
7- Michigan (12)
8- Kansas State (31)
9- Stanford (77)
10- Penn State (1)
11- Florida State (21)
12- West Virginia (7)
13- Florida (17)
14- Kentucky (2)
15- Clemson (8)
16- Wisconsin (29)
17- Alabama (5)
18- TCU (46)
19- Miami (22)
20- Utah (58)
21- Georgia (20)
22- Oklahoma (24)
23- Missouri (35)
24- Oregon State (63)
25- Georgia Tech (67)
26- Arkansas (25)
27- Iowa (36)
28- Texas (26)
29- Tennessee (11)
30- Navy (10)
31- BYU (55)
32- Army (27)
The current standings are vastly different than what the main Facebook polls have been displaying as EA has been adding in secondary polls on their FB page which put the programs on uneven ground. The company can simply craft those polls strategically in a manner to draw out their desired results. A great example is right there with how EA got Notre Dame to jump to the top – they asked who was better between them and BYU and counted in those votes in what was sure to be a landslide. They didn't even specify that polls such as those would be a factor in the cover process at the time they were posted. The few fan bases who turned out to support their non-top tier school can pretty much just stop wasting their time now.
Programs that have seen their positioning drastically drop with fans having a right to gripe if they're excluded going forward include Washington State (14th in main poll), Louisville (15th), South Carolina (16th), Syracuse (19th), Old Dominion (23rd), and Air Force (28th). On the other end of the spectrum those who were getting incredibly weak support in the main polls like Stanford (77th), Georgia Tech (67th), Oregon State (63rd), Utah (58th), and BYU (55th) have been boosted significantly and into the field likely to advance.
Ultimately if this way of collecting votes is limited to trimming down a field of 126 to 32 it won't be a huge deal. The schools falling out of that 32 probably would not have had a legit shot at winning a vote anyway. Still though from changing the way votes are collected – EA originally stated they'd be considering likes, shares, tweets, Instagram photos, and Youtube videos in all this – and even in the shifting of the end date for submitting votes this process has been a mess from the start and any skepticism towards the final results will be justified.