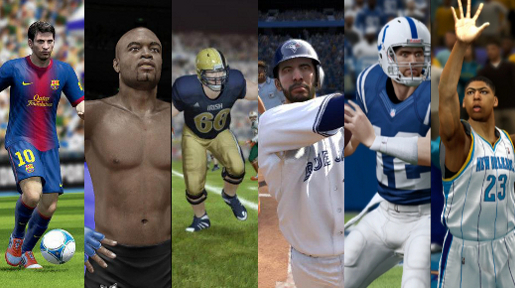 After being open for a month and collecting over 26K votes it's time to announce the winners of the 2012 Pastapadre Community Choice Awards. Former Community Game of the Year winners FIFA, NBA 2K, and Madden fittingly found themselves up for the big one this year as well. Continue on for the results and brief analysis for all the categories! 
Best Sports Game: NBA 2K13 (40%)
NBA 2K13 becomes the first repeat winner as the community gave it the edge over FIFA 13 (34%) and Madden NFL 13 (26%). It was able to increase appeal and accessibility this year though it was not quite the runaway that NBA 2K11 was back in 2010. All three of the games were flawed in their own ways but 2K13 excelled in gameplay and presentation and strength there was what most separated it from the pack.
Best New or Non-Yearly Sports Game: UFC Undisputed 3 (37%)
This was the tightest race of all the categories as UFC 3 barely edged out Forza Horizon (37%) by only a handful of votes. SSX (26%) also had a strong showing. UFC could have easily been considered among the top sports games overall in 2012 if not for the lack of post-release support. Had Forza Horizon been a multi-platform title it probably would have come away with this category given the extremely slim margin it needed to do so.
Best Arcade-Style Sports Game: SSX (49%)
As arcade-style sports games have started to fade away this category has lost some luster. SSX however was a great resurrection/reboot of the popular franchise that should have reached the hands of more gamers. FIFA Street (29%) and NFL Blitz (22%) were decent but ultimately uninspiring arcade entries in 2012.
Best Mobile Sports Game: FIFA 13 (51%)
FIFA 13 was able to win the award despite being limited to iOS like fellow iOOTP 13 (32%). New Star Soccer (17%) is a game that deserves more recognition. NSS and iOOTP are a different style of game that translates better to mobile devices than games that are more free-flowing experiences centered around gameplay. FIFA improved greatly over the prior year with new controls, online multiplayer, and EA Sports Football Club.
Most Disappointing Sports Game: NCAA Football 13 (53%)
No surprise here that NCAA Football 13 cruises to victory in the one category that no game wants to win. Madden NFL 13 (25%) and MLB 12: The Show (22%) had their issues but the lack of ambition and effort put into NCAA 13 was widely recognized. This is the second straight year that NCAA has won as it barely did so in 2011. It looks like NCAA 14 may be a make or break year for the franchise as consumers have shown they start to bail after a few disappointing products in a row.
Best Gameplay: Winner – NBA 2K13 (49%)
Though FIFA 13 (32%) and MLB 12: The Show (19%) both got decent support it was clear from the start that NBA 2K13 would get the most credit in the area of gameplay. The controls were changed to be more accessible, passing was improved, and legacy problems in areas like passing and player differentiation were addressed. 2K13 offered more notable change than the others which were in a position to tweak rather than do anything drastic.
Best Presentation: NBA 2K13 (71%)
The biggest blowout came with presentation as NBA 2K13 crushed FIFA 13 (21%) and UFC Undisputed 3 (8%). The weight of having Jay-Z on board was a factor but presentation as a whole is what the series has been best known for. It has now won all three years due to its exceptional TV broadcast presentation and commentary.
Best Online Play: Madden NFL 13 (41%)
In a very close victory Madden NFL 13 edged out FIFA 13 (40%) as the best online play experience second straight year. NHL 13 (19%) also had a fair amount of support. However when the best selling sports game in North America provides such good online performance, with the addition of what amounted to Online Franchise/Online Superstar and actually worked, it's simply going to be tough to beat.
Best New Feature or Mode: Madden NFL 13 – Connected Careers (46%)
Though it was arguably the most divisive game mode this year Connected Careers was recognized by many for the innovation and ambition…something that had been lacking from the Madden franchise for quite some time. It certainly has the potential to be something special in the years ahead. WWE 13's Attitude Era (32%) fared well as an alternative while UFC 3's Pride Mode (14%) and SSX's RiderNet (8%) trailed far behind.
Best Franchise or Dynasty Mode: Madden NFL 13 – Connected Careers (43%)
Despite a contingent justifiably upset with lacking carry-over features from Franchise mode Connected Careers was able to win here as well topping MLB 12: The Show (39%) and NHL 13 (18%). If The Show wasn't platform exclusive it may have come out on top but Madden's reach prevails. Even with the issues it faced for a first attempt at such a drastic change to the typical Franchise mode Connected Careers was largely a success.
Best Career Mode: NBA 2K13 – MyCareer (59%)
Another no-doubter for NBA 2K13 as MyCareer mode finishes well ahead of MLB 12: The Show's Road to the Show (25%) and the "Player" side of Connected Careers in Madden NFL 13 (16%). 2K13 addressed frustrating teammate AI while it's off-the-court aspects tapping into "lifestyle" have gone beyond any other career modes in sports games to date.
Year in Review
Only a few more to come!
•#1 of 2012: Still to be named
•#2 of 2012: Still to be named
•#3 of 2012: Madden NFL 13
•#4 of 2012: SSX
•#5 of 2012: UFC Undisputed 3
•#6 of 2012: Forza Horizon
•#7 of 2012: MLB 12: The Show
•#8 of 2012: NHL 13
•#9 of 2012: NCAA Football 13
•#10 of 2012: NFL Blitz
•2012 Community Choice Award Winners
•Vote for the 2012 Community Choice Awards
•Revisiting the Top Stories of 2012: Former Developer Rips EA Sports
•Revisiting the Top Stories of 2012: MLB 2K12 Perfect Game Contest Controversy
•Revisiting the Top Stories of 2012: The (at one time) Death of the MLB 2K Series
•Revisiting the Top Stories of 2012: Turning to Entertainers for Marketing Exposure
•Revisiting the Top Stories of 2012: Lawsuits Faced by Electronic Arts
•Revisiting the Top Stories of 2012: Disingenuous Marketing and Unfulfilled Features
•Revisiting the Top Stories of 2012: The Disastrous Road Towards NBA Live 13