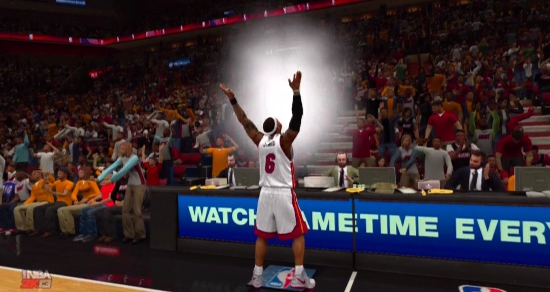 For quite a while NBA 2K13 was slotted into the top spot as the Pastapadre Sports Game of the Year. NBA 2K was set to be the first series to have won twice since the awards began in 2006 (2K11 won in 2010). It had it in its grasp but ultimately it slipped away when justification of the entire product as the "best" of this year's crop was made more more difficult.
NBA 2K13 arrived on the scene with welcome changes to controls, terrific presentation, an excellent career mode, and much improved online play. Though it had a few damaging design decisions and gameplay deficiencies what 2K13 excelled at overshadowed those arguably more than other sports titles in 2012 had been able to theirs. Poor post-release support however tipped the scales and, for a series that now is considered among the premiere yearly releases in all of video gaming and is selling as such, much more should be expected. 
The ranking of games in the best of 2012 list is based on number of factors including the personal amount of enjoyment had with a particular title, whether advertised features were fully delivered, post-release support, community interaction and communication, overall gameplay experience, feature set, and online play performance. Again this is largely a personal take and one with the advantage of tracking the games beyond just the release frame and does not act as some sort of recap of those with the highest scores on Metacritic. The analysis is weighted heavily towards those high in fun factor while considering them as a whole and compared relatively to the field.
It was a great move, one long overdue, for 2K Sports to change up the controls and scrap isomotion in favor of right stick dribbling. It was a valuable shift in terms of both enjoyment level and accessibility. Improved handling of contact between players, skill differentiations, fast breaks, and passing (including manual bounce passes) made for notable gameplay enhancements. Rebounding was probably the biggest weakness which is something that has begged for attention for some time now. Enough improvements were made to MyCareer mode (previously MyPlayer) to make that a big success in 2K13.
Presentation remained the best in sports gaming and was taken to another level by the involvement of Jay-Z as "executive producer". Whether the influence from him was liked or disliked those touches really didn't do any harm. Having his name behind the product however drew in new consumers making it a worthwhile signing for 2K. He even apparently was able to convince Charles Barkley to come on board for the Dream Team. A few celebrities can even be spotted courtside which was a neat thing to see. Commentary remains excellent with a deep audio library and always relevant references and the broadcast presentation is currently unmatched.
Feature wise the game was weaker than in recent years. There was no special mode incorporating legends or historic teams and the Dream Team had no real purpose besides being another team to use. The new MyTeam mode was an attempt to capitalize on the success of Ultimate Team modes in EA Sports titles Though there were some good ideas involved being able to buy the best players with real money resulted in the forming of "super teams" that basically ruined the experience of team-building for anyone who didn't want to shell out the cash as they couldn't compete otherwise. There were no real improvements made to Association mode and Online Association remained not a real viable option for those interested in the online league type experience. The All-Star Weekend content was held back as a pre-order exclusive until being offered as DLC in January.
What almost single-handedly propelled 2K13 into the top spot was that the online experience was for the first time in the series history at the very least satisfactory. It was a refreshing experience to have relatively consistent and stable online performance. The feature set being somewhat limited, and even aspects such as having to wait around with nothing to do when an opponent has paused the game remains, but that is okay given that the performance finally took a big jump forward. Now next year more will be expected feature wise.
Unfortunately one design decision adversely affected quite a significant portion of the entire product and damaged the overall experience. The VC (Virtual Currency) system was implemented poorly. Credits were inconsistently awarded and being spread across multiple modes (MyCareer and MyTeam) meant choosing between advancing quickly in one or the other. A lack of balance in time spent earning the amount of VC provided as well as what to spend on – why would anyone spend them on apparel for MyPlayer instead of actually improving the character – made it a frustrating element of the game to deal with. The whole system was built in a way to strongly encourage the spending of money on VC rather than earning it organically through play time.
The biggest disappointment with NBA 2K13 was the lack of post-release support. Only one patch has been delivered – and that one took nearly two months to arrive. Issues like the second half of Associations and MyCareers auto-simming and disappearing scoreboards had to be addressed. More should be expected than just one patch for a top-tier title. Roster updates have been handled horrendously bad. It took until mid-December before there weren't a significant number of missing players, there has been very little in the way of ratings adjustments, some teams have had inaccurate starting lineups and rotations, and inconsistency in when updates have been provided have left players like Steve Nash and Dirk Nowitzki inaccessible for two weeks after they returned from injury. On the plus side court updates, and coach changes, have been taken care of well.
For all its faults NBA 2K13 excelled in many ways and it was almost enough to make it the top sports game of the year. Consumer gripes since release however have been justified as the support from 2K Sports has not met reasonable standards and the VC system was implemented poorly detracting from the overall experience. Valuable fundamental changes in 2K13 helped cover up some of the issues but in the future more will have to be done to keep it near the top. With the apparent phasing out of legends and historic teams that presents a challenge that 2K will need to overcome.
NBA 2K13 may end up being considered the best playing basketball game ever but it won't be remembered as the most complete or memorable basketball product. For now that will have to remain NBA 2K11.
Year in Review
•#1 of 2012: To be announced
•#2 of 2012: NBA 2K13
•#3 of 2012: Madden NFL 13
•#4 of 2012: SSX
•#5 of 2012: UFC Undisputed 3
•#6 of 2012: Forza Horizon
•#7 of 2012: MLB 12: The Show
•#8 of 2012: NHL 13
•#9 of 2012: NCAA Football 13
•#10 of 2012: NFL Blitz
•2012 Community Choice Award Winners
•Vote for the 2012 Community Choice Awards
•Revisiting the Top Stories of 2012: Former Developer Rips EA Sports
•Revisiting the Top Stories of 2012: MLB 2K12 Perfect Game Contest Controversy
•Revisiting the Top Stories of 2012: The (at one time) Death of the MLB 2K Series
•Revisiting the Top Stories of 2012: Turning to Entertainers for Marketing Exposure
•Revisiting the Top Stories of 2012: Lawsuits Faced by Electronic Arts
•Revisiting the Top Stories of 2012: Disingenuous Marketing and Unfulfilled Features
•Revisiting the Top Stories of 2012: The Disastrous Road Towards NBA Live 13