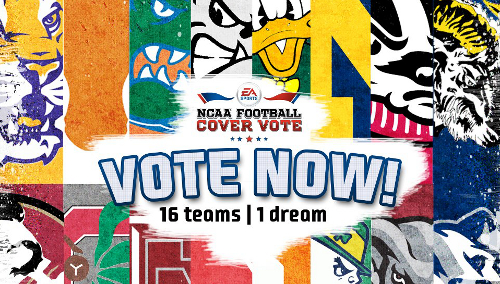 The voting for the cover of NCAA Football 14 continues and based on the current results, which are unlikely to see a significant shift from now until voting closes, there are nine schools that are vying for the eight available slots.
Michigan is leading the way with 25,552 votes followed closely behind by Alabama with 25,008 and Texas A&M with 23,340. Those three are blowing away the field. Next in line is Ohio State with 10,237 while Oregon is also safe with 9,853.  Notre Dame (unfortunately now for EA – though they'll never let them win this/at least remove Manti Te'o from consideration), Nebraska, and Tennessee are also in line to advance. Navy is on the outside looking in but only by a few hundred votes. None of the other programs appear to have a chance at climbing back in.
This round of voting runs through Tuesday and will be immediately followed by the round of eight and the choosing from potential cover athletes for each of those schools before advancing to the final four on February 18.