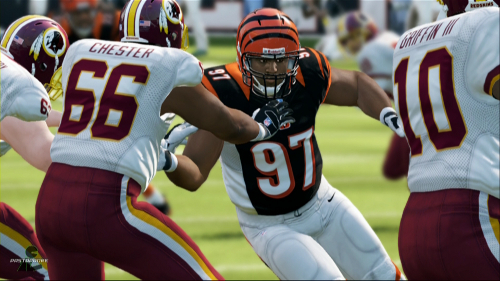 Last year the cover campaign for Madden NFL 13 began in late February with the announcement of the two candidates nominated from each team. The voting started in March and involved trimming the field down by facing them off against each other before moving on to a tournament style bracket. It was a hugely successful initiative for EA Sports and something similar will surely roll out for selecting the cover athlete for Madden NFL 14 as well.
With the initial candidate announcement period nearing it makes sense to evaluate what players are most likely to be a part of the process. EA last year surprised by including some players that were set to be free agents or who had been involved in previous years. Despite that I'll be eliminating a number of those and choosing primarily on who most deserves to be included – performance, status with their team, and national relevance will be a big part of that consideration – and for most teams picking one player from offense and one from defense.
Current/final Madden NFL 13 overall rating in parenthesis
Buffalo Bills: C.J. Spiller (91), Kyle Williams (92)
Spiller is the standout for the Bills due to his big play ability. He averaged a remarkable 6.0 yards per carry while totaling 1244 yards on the ground. He added 43 receptions for 459 yards and combined for 8 touchdowns on the season. The second slot is harder to identify. Kyle Williams though outshines the disappointing Mario Williams from the defensive line. Jairus Byrd, Leodis McKelvin, Stephon Gilmore, and Stevie Johnson also got consideration. Spiller and K. Williams are now both headed to the Pro Bowl.
Miami Dolphins: Cameron Wake (97), Ryan Tannehill (79)
Reggie Bush and Jake Long are free agents and that cuts down on the number of cover-caliber players on Miami. This is a team that last year had one of their candidates (Brandon Marshall) traded before the tournament even began. Wake had 15 sacks and 3 forced fumbles making him the most obvious choice with the other spot up for debate. Tannehill, Karlos Dansby, and even punter Brandon Fields were considered but in the end it's hard to pass on the rookie QB that started all 16 games.
New England Patriots: Vince Wilfork (97), Stevan Ridley (83)
Last year the Pats had Rob Gronkowski and Wes Welker as their representatives and this year neither should be included. Gronkowski missed much of the season due to injuries while Welker is heading into free agency. Tom Brady is never going to be involved in a cover vote. That leaves players like Wilfork, Ridley, Jerod Mayo, Aaron Hernandez, and Brandon Lloyd. Wilfork was a first team All-Pro while Ridley established a consistent running game churning out 1263 yards and 12 touchdowns.
New York Jets: Nick Mangold (96), Muhammad Wilkerson (91)
It's hard to draw players from a team that was so dysfunctional and unlikable all season especially when the best player, Darrelle Revis, was injured most of the year. It's safe to say Mark Sanchez and Tim Tebow won't be up for the vote again, unless EA shamelessly tries to capitalize on Tebow even though he will no longer be with the Jets and may not be on any team at all next season. Mangold and Wilkerson aren't exactly going to get anyone excited but they probably deserve it the most. LaRon Landry is headed for free agency while Antonio Cromartie also got some consideration but wouldn't be a good fit.
Baltimore Ravens: Ray Lewis (92), Joe Flacco (89)
They're headed to the Super Bowl and have a number of players that could make a case for the cover. Lewis would almost seem certain to be one given his marketing ties to EA and his retirement and perceived inspiration in this his final run. That new facemask of his would also look intimidating on the cover. Flacco may not have had a stellar regular season but he's been tremendous in the playoffs stretching back through his entire career – he now has the most road playoff wins in NFL history. This postseason he has 8 touchdowns and no interceptions. Cases could also easily be made for Haloti Ngata, Ray Rice, Ed Reed, Terrell Suggs, Anquan Boldin, and Torrey Smith.
Cincinnati Bengals: Geno Atkins (98), A.J. Green (94)
First team All-Pro Geno Atkins and second team All-Pro A.J. Green are the best choices for the Bengals. Atkins could have been Defensive Player of the Year if not for J.J. Watt. While this would mean A.J. Green would be involved for a second year in a row it would be hard to justify switching him (97 catches, 1350 yards, 11 touchdowns) for someone like Leon Hall.
Cleveland Browns: Trent Richardson (88), Joe Thomas (98)
It's tough to figure out who a second entrant would be for the Browns this year. Joe Thomas and Joe Haden were both involved in the Madden 13 cover tournament with Haden advancing to the bracket and getting blown out in the first round. If Phil Dawson or Josh Cribbs weren't free agents one of them would probably make the most sense. Based on the second team All-Pro and Pro Bowl selection Thomas gets the nod but there's no reason to think he'd have a chance at advancing past Richardson who had a decent rookie season producing 12 total touchdowns.
Pittsburgh Steelers: Heath Miller (89), Lawrence Timmons (91)
Miller was selected to the Pro Bowl but had to bow out due to injury late in the season – he had turned in 71 catches and 8 touchdowns on the year and was named the team's MVP – and that should be enough to occupy one spot. Given the marketing relationship with EA there is always the possibility Troy Polamalu gets in despite playing in only 7 games this season. Mike Wallace heading into free agency eliminates him as an option and Ben Roethlisberger was a candidate last year but didn't even make it to the bracket. Wanting to take someone from the defensive side of the ball, with Maurkice Pouncey probably the best second option overall, it was a tough call but Timmons edges out the field.
Houston Texans: J.J. Watt (99), Duane Brown (97)
It's a no-brainer at the top for the Texans with the certain-to-be Defensive Player of the Year J.J. Watt. It remains to be seen how strong support from fans league-wide will be for him and it's always an uphill battle for a defensive player (Patrick Willis was the only one last year to reach the top 8) but Watt should have at least a shot at winning the cover. He was able to make enough highlight-caliber plays and put up stats (20.5 sacks, 4 forced fumbles, 16 passed defensed) to get the exposure needed. The next spot could come down to first team All-Pro tackle Duane Brown or Arian Foster and Andre Johnson (last year's candidates – Foster advanced to second round of tournament). It may make sense to go recognize Brown especially if EA is hoping for an extended run from Watt.
Indianapolis Colts: Reggie Wayne (92), Andrew Luck (87)
Last year Dwight Freeney and Robert Mathis were the candidates and for Madden 12 it was also Freeney. This year with the emergence of Luck, resurgence and leadership of Wayne, and the pending free agency for Freeney, it's likely to be all offense unless Mathis gets nominated again. Ideally Luck may not have gotten the call this year – he's likely to be in the running from the Colts throughout his career – but it would be hard to choose anyone else over him. The Colts were one of the best stories of the year surprising everyone with a playoff birth and these two played the biggest parts in that on the field.
Jacksonville Jaguars: Maurice Jones-Drew (95), Cecil Shorts III (82)
There's really no one that deserves cover consideration from the Jaguars. Maurice Jones-Drew will probably be in the running for a third straight year despite only appearing in 6 games. He has a strong relationship with EA and it is well known how much he likes to play Madden making for free publicity. Earl Monroe, Paul Posluszny, and Justin Blackmon got consideration for the second spot but Shorts was the best story on the team last year. He had a strong second half of the season when he got an opportunity accounting for 47 receptions, 774 yards, and 5 touchdowns in his final 9 games.
Tennessee Titans: Chris Johnson (88), Michael Roos (94)
Like the Jaguars the Titans have no one that really shines as a potential cover athlete. Chris Johnson got blown out by Marshawn Lynch in the first round last year after getting past Jake Locker and he was also involved in the Madden 12 tournament. He's had two shots now and come up short and because of his contract the Titans have to decide whether they even bring him back or cut him loose. Rob Bironas is a free agent, Kenny Britt is not a good fit cause of off the field issues, and Locker struggled. There's really no choice but pick Johnson despite the reasons against him with David Stewart and Michael Roos as options from the offensive line.
Denver Broncos: Von Miller (98), Demaryius Thomas (88)
Though it'll be a second straight year Miller deserves another chance as he had no shot when up against Tim Tebow last year. Miller turned in a Defensive Player of the Year caliber season with 18.5 sacks and 6 forced fumbles. Demaryius Thomas is headed to the Pro Bowl after becoming a more consistent threat with Peyton Manning at QB. With 94 catches for 1434 yards and 10 touchdowns he showed he could be a true #1 receiver. It would be tough to justify Champ Bailey after he got burned repeatedly in the Divisional playoff game unless EA looks to reward his career rather than this season. Manning of course is, like Tom Brady, not going to be involved in a chase for the cover.
Kansas City Chiefs: Jamaal Charles (93), Tamba Hali (94)
Last year it was Dwayne Bowe who moved on to the tournament only to get the unfavorable first round duty to go up against Calvin Johnson who crushed him. Derrick Johnson was the one that lost to Bowe initially. So going away from those two with Bowe a free agent and Johnson having already had an opportunity the two that make the most sense are Charles, who bounced back from injury to put up 1509 yards rushing despite having Matt Cassel and Brady Quinn leading the passing game, and Hali who probably deserved a nomination last year as well.
Oakland Raiders: Sebastian Janikowski (97), Denarius Moore (82)
It was fitting that the Raiders had two special teams players as the candidates in last year's tournament as the cupboard was bare of options outside of that pair. Sebastian Janikowski and Shane Lechler were rated 99 and 98 justifying their selections. Brandon Myers and his 79 receptions are headed towards free agency otherwise he may have been picked. Instead Denarius Moore, who was inconsistent but put up 7 touchdowns, could be the choice. Janikowski can get another run after making it into the tournament over Lechler last year.
San Diego Chargers: Eric Weddle (96), Antonio Gates (85)
Weddle is the clear favorite to be nominated this year as he is far and away the best player on the team and the players recognized that voting him as their MVP. He was voted second team All-Pro, the only San Diego player recognized there, though he was snubbed for the Pro Bowl (no Chargers made it). Gates didn't have a spectacular year by his standards but he's another one of the guys that has a close relationship with EA and, considering there are no others on the team that jump out deserving of the recognition, he will probably take up a spot yet again. A darkhorse though would be Corey Liuget who had an impressive 7 sacks and 9 passes defensed out of the defensive end position in the 3-4.