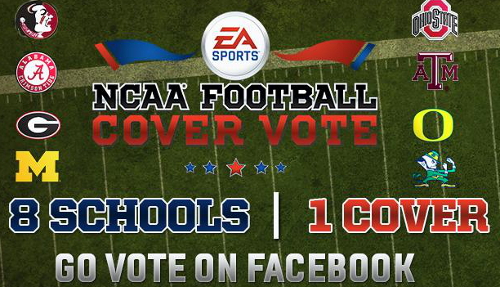 EA Sports today announced the schools that have advanced to the Elite Eight of the NCAA Football 14 cover tournament and have opened up the voting. Once again it is being handled through Facebook with a main poll which will be followed by secondary ones.
Alabama led the way in the round of 16 followed closely behind by Texas A&M and Michigan. Those three had the benefit of being listed first in the poll options on Facebook which provided a huge advantage as users had to click through to another page to see the other programs. The trio totaled 88K votes which was more than the remaining 13 schools combined with 78K. That represents yet another gaffe in what has been a poorly staged cover vote process from the start. 6 of the 8 options from the primary poll are displayed on the main FB page with Oregon and Texas A&M now seemingly at a disadvantage.
Penn State slipped out after looking as though they would likely advance. That leaves Notre Dame as the only program that EA would certainly like to avoid now given the Manti Te'o story. If they had planned for him to be a cover option that at least will have been scrapped now. Within the next 10 days the company will be announcing the potential cover athletes for the programs leading into a voting stage to choose the eventual candidate for each that will end on February 18.