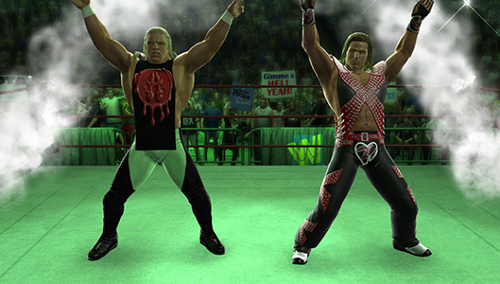 Take Two, parent company of 2K Sports, may have acquired the WWE license that had entered a free agency period due to the THQ bankruptcy proceedings. Initial rumors were that EA Sports was the company that came to an agreement with WWE but follow-up information I received indicated that it was more likely to be Take Two. IGN has confirmed those rumblings though it is important to note nothing yet is official. 
THQ's assets were auctioned off today with the total money generated greater than the bid originally accepted for the entire company by Clearlake. That meant the assets were distributed individually with Clearlake no longer in the picture. However the WWE license was never a part of the ongoing process that just concluded. WWE became a free agent that could pursue any avenue or partnership they so desired. It had been known since December that this would be the likely outcome it was just a question of where the license would land.
Though EA seemed like a fit on the surface there were major questions about whether they would be able to handle developing yet another new franchise. EA Canada is currently building UFC and Tiburon is still working on resurrecting NBA Live. The company had past interest in the license before THQ and WWE agreed to an eight year extension which would have ended in 2018.
This would be a major coup for Take Two as the sports line has dwindled down to just NBA 2K with this now likely the last year of MLB 2K. The timing could work out with development resources being shifted from MLB over to the new WWE product as soon as a month from now.
The big question becomes whether 2K would be starting from scratch in-house or if they'll have some agreement in place with Yukes (the studio which has been developing the WWE series and owns the engine). Though many would be happy to be rid of Yukes for good that would undoubtedly mean no WWE game this year and possibly even in 2014.
The best outcome for all might be an agreement for Yukes to stay on and develop for this year and possibly the next on the current generation of consoles while 2K's Visual Concepts studio works towards launching their own vision for the next Xbox and PS4. There's also no need to release every year in November when competition is hottest as it could make more sense – particularly given their own NBA 2K falling in October – for WWE to come out in March ahead of Wrestlemania every year.
[Update] The agreement with Take Two has been confirmed.