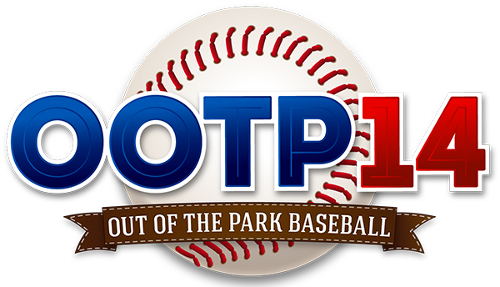 The next version of the highly regarded Out of the Park Baseball series is now available to pre-order and at a discount to those who do so by February 15. The PC/Mac baseball management sim can be had for $35 until then which is $5 off the retail price. In addition everyone who pre-orders will be entered into a drawing for a 64GB iPod touch or one of three $100 Amazon gift cards. All those who pre-order, whether prior to 2/15 or after, will have access to the game three days before the official April release date as well. Continue on for a look at all the new features and improvements for OOTP 14!
2013 Opening Day Major League Rosters
You'll love our 2013 roster set, which features not only up-to-date Opening Day rosters for all major league teams but also thousands of individually-rated players for all minor leagues and hundreds of players from the 2013 first-year player draft class. Major league player ratings are officially based on Baseball Prospectus' PECOTA projection system, which has proven to be the most accurate player stats projection system on the market! The 2013 season will have plenty of drama in store. Will Mike Trout be able to improve upon his already legendary rookie season? How will Aroldis Chapman fare in the Cincinnati rotation? Will Washington with a healthy Stephen Strasburg and a more experienced Bryce Harper dominate the NL East? Will Toronto's all-in approach pay off? How will the AL West welcome Houston? Does Anaheim have the best lineup in baseball? Play OOTP 14 and find out!
Completely Recoded Player Origin System
We have completely recoded player origin to make your league's development much more realistic. There are now 5 different ways new players enter the league, and each one can be customized for the number of created players and their nationalities:
1) The First-Year Player Draft: By default, players in the draft pool are now from the USA, Canada or Puerto Rico. However, the nationality can be tweaked in great detail and can also include a set percentage of random nationalities. That also applies to the following optional player entry methods.
2) International Amateur Top Prospects (optional): These players are typically 16-to-17-years-old who have a reputation of being top talents. They appear as free agents in a new special international section of the league transaction screen and most likely will demand contracts with high signing bonuses (another new feature). You can customize the number of these players who will be created each year.
3) Established International Free Agents (optional): These players are typically from Japan, South Korea, Cuba, Taiwan and Mexico and are between 22 and 32 years old. They typically have slightly below average major league talent, but there will be the occasional star player, like Yu Darvish, Ichiro, or Aroldis Chapman.
4) International Scouting Discoveries (optional): Your team's scouts constantly evaluate the international leagues as they seek young, raw, and unknown talent. The success of your head scout is determined by the scouting budget, the quality of your scout, and his assigned regions. When your head scout discovers a player who he feels may have a shot at becoming a pro, that player is automatically assigned to your team's new international complex. Players in the international complex may remain there until their 20th birthdays, after which they will have to be assigned to a minor league team or released.
5) Players from Independent Leagues (optional): You may also have your head scout look for talent in hidden independent leagues. These players are typically from the league home nation, but once in a while an international talent may be discovered here too. Independent league players are typically in their early-to-mid-20s and usually only have an outside shot at becoming borderline major league players. However, there may be the occasional feel-good success story.
Recoded Player Creation Algorithms
As we sought to create more realistic player types and support the new player origin system, we recoded OOTP's complex player creation routines. This ensures more stable long-term simulations and more realistic player careers and stats output.
New Fielding Ratings Development System
In real life, young players usually start out playing positions that demand a certain grade of athleticism. However, as players mature, they often grow out of these so-called skill positions (such as shortstop, catcher, or center field) and have to shift to the right side of the defensive spectrum. This is now properly modeled in the OOTP player development engine. For example, if you draft that talented 18-year-old 6'3″ 175 lb shortstop, you may end up with a below-average 230 lb corner outfielder eventually.
Recoded Scouting System
We have recoded the way OOTP evaluates players, both for the OOTP Scouting Agency ("OSA") and your head scout. For example, players with several years of pro experience are now better scouted than in previous versions, and the OSA is more accurate overall, providing a valid second opinion on players. There are also players who are vastly overrated or underrated by almost all scouts, resulting in more late-round surprises.
Better Player Development Tracking
OOTP now properly tracks the development of your players and offers several ways to analyze the data. You receive monthly player development updates from your head scout (or the OSA, if scouts are disabled), who highlights the most important changes, such as when a pitcher in the lower minor leagues learns a new pitch and improves his prospect status.
Expanded Real-Time Simulation Experience
The real-time simulation feature was a big hit in OOTP 13 – all of you loved it! We have listened to your feedback and improved the experience, such as adding an expanded view on a single game that is currently in progress. This new view shows you the most important facts of the selected game, like the current batter-pitcher matchup, past plays, basic box scores, win probability, and so forth.
Improved Trading
We improve the trading AI each year, and OOTP 14 is no different. On top of that, we added a screen that keeps track of all the trades in the history of the league, with a detailed look at the involved players' salaries, overall ratings, prospect rankings, and so forth. OOTP 14 also adds a "Not interested in Player X" function that prevents the AI from repeatedly offering a certain player to you.
Miscellaneous Features
On top of these headline features, we are tweaking and improving other areas of the game too, such as:
•Improved interface
•Better player evaluation AI
•Roster AI recoding, resulting in better managing of minor leagues and the 40-man roster
•Better contract negotiation AI
•Improved depth charts and pitching staff control, i.e. list your preferred pinch-hitters, pinch-runners and "LOOGY"-Pitcher.
•New graphical depth chart screen
•Improved league strategy settings; i.e., define the number of starting pitchers, relief pitchers, and position players carried by the AI teams, split by DH and non-DH sub-leagues.
•Smarter in-game AI
•Improved in-game control, including "Pitch to Contact" option and better stealing control in one-pitch mode
•Much more storylines
•Improved play-by-play commentary
•One-click joining of online leagues
•New playoff series analysis screen