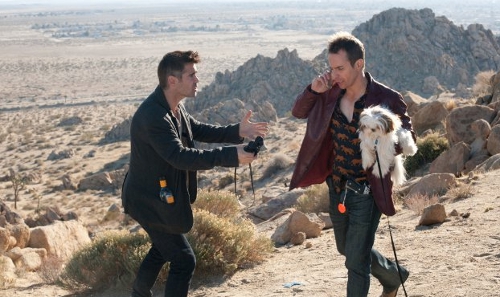 Seven Psychopaths
Marty (Farrell) is a struggling writer who dreams of finishing his screenplay, "Seven Psychopaths". Billy (Rockwell) is Marty's best friend, an unemployed actor and part time dog thief, who wants to help Marty by any means necessary. All he needs is a little focus and inspiration. Hans (Walken) is Billy's partner in crime. A religious man with a violent past. Charlie (Harrelson) is the psychopathetic gangster whose beloved dog, Billy and Hans have just stolen. Charlie's unpredictable, extremely violent and wouldn't think twice about killing anyone or anything associated with the theft. Marty is going to get all the focus and inspiration he needs, just as long as he lives to tell the tale.

Paranormal Activity 4
It has been five years since the disappearance of Katie and Hunter, and a suburban family witness strange events in their neighborhood when a woman and a mysterious child move in.

Hotel Transylvania
Welcome to Hotel Transylvania Dracula's lavish five-stake resort where monsters and their families can live it up and no humans are allowed. One special weekend Dracula (Adam Sandler) has invited all his best friends Frankenstein and his wife the Mummy the Invisible Man the Werewolf family and more to celebrate his beloved daughter Mavis's (Selena Gomez) 118th birthday. For Dracula catering to all of these legendary monsters is no problem but the party really starts when one ordinary guy stumbles into the hotel and changes everything!

Madly Madagascar
Your favorite Madagascar pals are back in an all-new adventure! Alex's favorite holiday, Valentine's Day, brings hilarious surprises and excitement for the entire gang. Melman plans a big surprise for Gloria, Marty tries to impress a new friend and everyone wants to get their hands on King Julien's love potion.

Cold Light of Day
Will Shaw (Henry Cavill) arrives in Spain for a weeklong sailing vacation with his family, despite having a strained relationship with his disciplinarian father Martin (Bruce Willis). The situation takes an unexpected and violent turn when his family is kidnapped by intelligence agents. Will's world turns upside down as he gets tangled in an intergovernmental web of lies and secrets, with a briefcase in the center of the mystery. Will finds himself on the run and realizes that he must recover the briefcase and take down secret agents in order to get his family back alive.

Die Hard: 25th Anniversary Collection
Celebrate 25 years of Bruce Willis playing John McClane with this 5-Disc Collection featuring the first four Die Hard films and an all-new bonus disc, "Decoding Die Hard." It's the ultimate tribute to the tough-as-nails cop with a wry sense of humor and a knack for explosive action.

The Awakening
They say, the boy was scared to death. When the death of a child at a boarding school is blamed on a ghost, hoax exposer Florence Cathcart is certain that science and reason can explain it. But the truth she discovers is more terrifying than she could ever imagine, and soon the ghost hunter becomes the hunted. Starring Rebecca Hall (The Town), Dominic West (John Carter) and Imelda Staunton (Harry Potter), The Awakening is a terrifying mystery filled with haunting twists that will keep you on the edge of your seat.

Batman: The Dark Knight Returns, Part 2
The Dark Knight along with new sidekick Robin have finally reclaimed Gotham City and allowed a ray of hope to penetrate the reign of terror that The Mutants had cast upon his city. With Batman back in the spotlight the extended media coverage has awoken a far worse evil at Arkham Asylum The Joker! Forever destined to be mortal enemies The Joker has a diabolical scheme that may pull Batman down to the darkest levels of insanity. While on the horizon a global catastrophe races towards Gotham and with it comes a familiar face The Man of Steel though this time he has Batman in his sights. Witness as the aging Dark Knight wages a tireless war against crime while proving that courage and will are indeed timeless.

Downton Abbey: Season 3
The Great War is over and a long-awaited engagement is on, but all is not tranquil at Downton Abbey as wrenching social changes, romantic intrigues, and personal crises grip the majestic English country estate for a third thrilling season. As other great houses are crippled psychologically and financially in the wake of World War I, Robert, Earl of Grantham, sticks to his duty to maintain Downton more firmly than ever. But in this changing landscape nothing is assured, and could it be that even the war-weary Crawleys must fight a new battle to safeguard their beloved Downton?