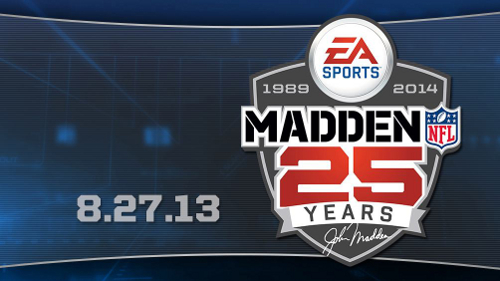 In celebration of the 25th anniversary of the Madden franchise this year's game will be known as Madden NFL 25. The vote for the cover athlete of Madden 25 will begin on March 11 and involves both legends and current players. 
The reason why the name sounds so ridiculous is because EA made the decision not to return the '20' in front of the year on the cover with Madden 10 further establishing that the number would represent the year and not an edition or how long the series has been in existence. Though it is very unlikely, this is the last year of the exclusive license contract with the NFL, and if there were to be no more Madden games going forward the disruption from the name (how to go from Madden 25 to Madden 15 the next year) would certainly be less of a concern for the company.
The cover vote will present two different tournament-style brackets of 32 players. On one side will be legends and the other active stars. The winner of each bracket go head-to-head for the honor.
Curiously the release only mentions Madden NFL 25 coming to the Xbox 360 and PS3. Presumably it will also be available on the Wii U and Vita as well despite their omission.