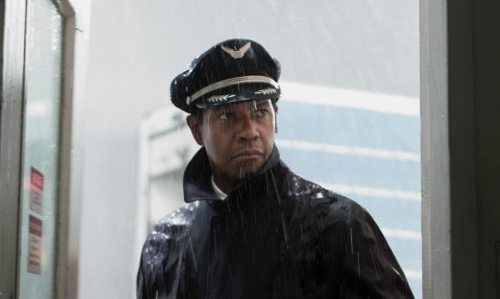 Flight
In this action-packed mystery thriller, Academy Award winner, Denzel Washington stars as Whip Whitaker, a seasoned airline pilot, who miraculously crash lands his plane after a mid-air catastrophe, saving nearly every soul on board. After the crash, Whip is hailed as a hero, but as more is learned, more questions than answers arise as to who or what was really at fault and what really happened on that plane?

Here Comes The Boom
Former collegiate wrestler Scott Voss (Kevin James) is a 42-year-old, apathetic high school teacher. When budget cutbacks threaten to cancel some of the school's programs and lay off its music teacher (Henry Winkler), Scott creates a scheme to raise money by moonlighting as a mixed martial arts fighter. Everyone thinks Scott is crazy – most of all the school nurse, Bella (Salma Hayek). In his quest, Scott gains something he never expected as he inspires his students and becomes a sensation that rallies the entire school.

Argo (Instant Streaming Only)
Based on true events, Argo chronicles the life-or-death covert operation to rescue six Americans, which unfolded behind the scenes of the Iran hostage crisis-the truth of which was unknown by the public for decades. On November 4, 1979, as the Iranian revolution reaches its boiling point, militants storm the U.S. embassy in Tehran, taking 52 Americans hostage. But, in the midst of the chaos, six Americans manage to slip away and find refuge in the home of the Canadian ambassador. Knowing it is only a matter of time before the six are found out and likely killed, a CIA "exfiltration" specialist named Tony Mendez (Ben Affleck) comes up with a risky plan to get them safely out of the country. A plan so incredible, it could only happen in the movies.

Celeste and Jesse Forever
Celeste (Rashida Jones) and Jesse (Andy Samberg) are high school sweethearts who married young and are now at a crossroads at the age of thirty. While Celeste is a success in business, Jesse is unemployed and adrift. Celeste thinks that if they divorce now they could still remain friends. Jesse passively accepts the decision even though he is still in love with her. As reality sets in, Celeste slowly and painfully realizes she has been cavalier about their relationship, but her timing with Jesse is less than fortuitous.

Deadfall
Siblings Addison (Eric Bana) and Liza (Olivia Wilde) are fleeing from a casino heist when their getaway results in a car accident and a dead state trooper. On the run, they go separate ways, Addison creating mayhem cross-country and Liza being rescued by ex-boxer Jay (Charlie Hunnam), who is en-route for a Thanksgiving homecoming. Upon a sibling reunion, a thrilling showdown occurs that pushes the bonds of family to the limit.

Alex Cross
Based on the character created by James Patterson and poularized by Morgan Freeman in KissThe Girls and Along Came a Spider, Tyler Perry takes over as Dr. Alex Cross, a homicide detective/psychologist with the Detroit Police Department. Cross meets his match in a serial killer (Matthew Fox). The two face off in a high-stakes game of cat and mouse, but when the mission gets personal, Cross is pushed to the edge of his moral and psychological limits in this taut and exciting action thriller.

Tyler Perry's Madea Gets a Job: The Play
Tyler Perry's new musical stage play starring the infamous Mabel Simmons or "Madea" as her fans know her. When a judge orders Madea to do 20 hours of community service at a local retirement home the residents and staff are not ready for Madea's brand of "the truth", but all is well that ends well when Madea helps the residence of Easy Rest Retirement Home realize the importance of family, love and forgiveness.

Peter Pan: Diamond Edition
Bid your cares goodbye as Wendy and her brothers embark on fantastic adventures with the hero of their bedtime stories; the boy who never grew up, Peter Pan! With faith, trust and Tinker Bell's pixie dust, Peter teaches them how to fly and leads them to the "second star to the right" and beyond . . . to Never Land! Celebrate the 60th anniversary of Walt Disney's animated version of the J.M. Barrie classic.

Southland: Season 2,3,4
The Southland is Los Angeles: sandy beaches Bel-Air mansions gangbangers and drug deals gone wrong. It's where the rookies and veterans of a stand-up LAPD unit see all the violence and fear a big city can breed and struggle to make a difference. This 6-Disc Set contains all 26 explosive Season Two Three and Four Episodes of the gripping lightning-paced series about the men and women who live their lives on a jagged edge taking on criminals victims and a sprawling city tainted by vice and seething with danger. Sometimes the cops triumph. Sometimes they fail. And sometimes the poison they live with on the job comes home with them. Police action hits hard in Southland.

Cougar Town: Season 3
Jules Cobb and her hilarious circle of friends are back for more laughs in the fabulous third season of television's hit comedy, Cougar Town. Courteney Cox stars in this brilliant series about a divorced mom facing the hysterical challenges and rewards of life's next chapter. Wedding bells are ringing! Jules and Grayson are excited to tie the knot, but friends, finances and past relationships threaten to derail their big day. Emotions get even hotter when Travis sets his sights on Laurie, and Bobby tries to take his relationship with Angie to the next level. Plus, Jules throws a memorial service for her beloved Big Carl.

House of Cards Trilogy: The Original UK Series Remastered
Adapted for the screen by Andrew Davies (Pride and Prejudice Bleak House) House of Cards is a spell-binding dissection of naked ambition greed and rampant hypocrisy in the corridors of power. The series documents in thrilling detail the rise of Tory Chief Whip Francis Urquhart (Ian Richardson Dark City Tinker Tailor Soldier Spy) a man with unwavering contempt for those with "no background no bottom." With the downfall of Margaret Thatcher a bitter internecine power struggle ensues within the Conservative Party. Urquhart schemes more devilishly than Iago to depose Thatcher's colorless John Major-style successor. And even Machiavelli would baulk at Urquhart's methods. Any and every act-including murder-is legitimate and the ends very much justify the means.