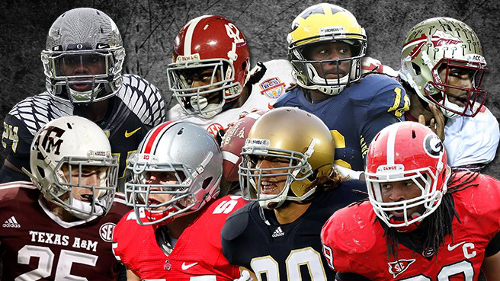 EA Sports continues to try and milk the cover campaign for NCAA Football 14 even though it hasn't been able to create the awareness they had hoped. The latest act comes as individual cover athletes can now be shown support through a "like" on the NCAA 14 Facebook page. Presumably these totals will be added into the primary poll which has been up for two weeks. The round will come to a close on February 18. 
Throughout EA has made fundamental mistakes with how they have handled the cover vote process and even changed the way support would be shown and the deadlines mid-stream. In this case the company appears to be making an attempt at artificially creating a race for the top four spots despite the definition between the leading four and those on the outside looking in very obvious based on the earlier poll. They've done so by posting up the opportunity to vote for the bottom four cover athlete candidates a full day before the others went up (and in the case of Alabama and Michigan they still have yet to appear).
Whether that extra time makes a difference remains to be seen. Changing the collection method to "likes" rather than using polls will greatly increase the total numbers in the round. Unfortunately for EA the field of cover candidates holds no compelling options that will reach beyond the individual fan bases behind each school. As such it becomes less likely such a tactic will create a shift in who will ultimately advance.