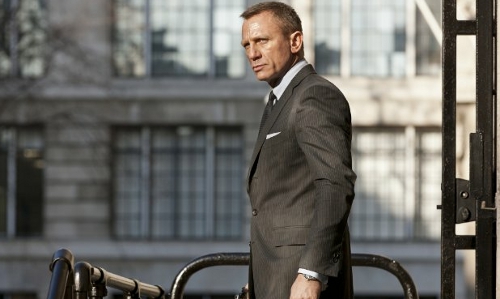 Skyfall
Daniel Craig is back as James Bond 007 in SKYFALL, the 23rd installment of the longest-running film franchise in history. In SKYFALL, Bond's loyalty to M (Judi Dench) is tested as her past returns to haunt her. 007 must track down and destroy the threat, no matter how personal the cost. When Bond's latest assignment goes gravely wrong and agents around the world are exposed, MI6 is attacked forcing M to relocate the agency. These events cause her authority and position to be challenged by Mallory (Ralph Fiennes), the new Chairman of the Intelligence and Security Committee. With MI6 now compromised from both inside and out, M is left with one ally she can trust: Bond. 007 takes to the shadows – aided only by field agent Eve (Naomie Harris) – following a trail to the mysterious Silva (Javier Bardem), whose lethal and hidden motives have yet to reveal themselves.

The Man With The Iron Fists
Quentin Tarantino presents The Man with the Iron Fists, an epic action adventure inspired by classic kung fu movies. When the emperor's gold is hijacked, every kung fu warrior, assassin and hired gun in China will battle to claim the fortune. Starring Academy Awardr winner Russell Crowe, RZA, and Lucy Liu, The Man with the Iron Fists Unrated Extended Edition includes jaw-dropping martial arts action that you couldn't see in theaters. Also starring Rick Yune, David Bautista, Jamie Chung, Cung Le and Byron Mann.

The Perks of Being a Wallflower
The Perks of Being a Wallflower is based on the wildly popular novel by Stephen Chbosky about a freshman named Charlie (Logan Lerman) who is always watching from the sidelines until a pair of charismatic seniors takes him under their wing. Beautiful, free spirited Sam (Emma Watson) and her fearless stepbrother Patrick (Ezra Miller) shepherd Charlie through new friendships, first love, burgeoning sexuality, bacchanalian parties, midnight screenings of The Rocky Horror Picture Show and the quest for the perfect song.

Silent Hill: Revelation
Return to a place of insanity and blood-curdling chills in this shocking sequel to one of the most surreal and gruesome horror films ever created. Heather Mason (Adelaide Clemens) and her father (Sean Bean) have always tried to stay one step ahead of the malevolent forces intent on their destruction. But on the eve of her 18th birthday, a dangerous revelation leads her deeper into a demonic world that threatens to trap her in a nightmarish landscape forever. Based on the hugely popular video game series and written and directed by Michael J. Bassett (Deathwatch), it's a psychological trip into absolute terror unlike anything you've ever known.

Bully
From Sundance Award-winning filmmaker, Lee Hirsch, comes a beautifully cinematic, character-driven documentary following five kids and families over the course of a school year. Offering insight into different facets of America's bullying crisis, the stories include two families who have lost children to suicide and a mother awaiting the fate of her 14-year-old daughter, who has been incarcerated after bringing a gun on her school bus. With an intimate and often shocking glimpse into homes, classrooms, cafeterias and principals' offices, this is a powerful and inspiring film that every educator, parent and teenager should see.

The Sessions
Paralyzed and confined to an iron lung since childhood, poet-journalist Mark O'Brien (Hawkes) has overcome adversity time and time again. But now, at age 38, he faces his toughest challenge yet: losing his virginity. With the help of a beautiful therapist (Hunt), a sympathetic priest (Macy), and his own unbridled sense of optimism and humor, Mark embarks on an extraordinary personal journey to discover the wondrous pleasures that make life worth living.

Nurse Jackie: Season 4
NURSE JACKIE Season 4 stars Emmy- Award-winning actress Edie Falco as Jackie Peyton a strong-willed and brilliant – but very flawed – emergency room nurse. This season Jackie comes to realize that both karma and sobriety can be a bitch. In addition to finally confronting her addiction Jackie's street smarts and sardonic wit are tested even further by an ambitious new hospital administrator (Bobby Cannavale) determined to run a tight ship and keep Jackie in line.

Gossip Girl: Season 6
Six years after the first anonymous blogpost rocked New York society, Season Six opens with the Upper East Siders working together to find one of their own. Serena has gone off the grid beyond even the reach of Gossip Girl. Her friends fear for the worst and hope for the best but even they can't imagine where they will ultimately find her. Meanwhile Blair has offered Chuck her heart but is her love enough to help him win back his empire? Lonely Boy Dan has written a new book that promises to make even more trouble than the first and this time he has no desire to remain anonymous. Nate is determined to finally reveal the true identity of Gossip Girl thereby making a name for The Spectator — and himself. Lily and Rufus turn on one another when Rufus makes a surprising new ally who threatens Lily and her family. Anywhere else it would be too much drama to handle but this is the Upper East Side. And when Bart Bass Jack Bass and Georgina Sparks show up to raise hell it's a fight to the spectacular series finale. Who comes out on top? That's one secret I'll never tell….XOXO Gossip Girl.

Gossip Girl: The Complete Series
Based on the best-selling series of young-adult novels by Cecily von Ziegesar and executive produced by Josh Schwartz ("Chuck," "The O.C.") and Stephanie Savage ("The O.C."), "Gossip Girl" is a one-hour drama based on the lives of privileged Manhattan prep school teens. The students first learn that Serena van der Woodsen, once the Upper East Side's most notorious party girl, is back in town the way they learn all the important news in their lives: from the blog of the all-knowing albeit ultra-secretive Gossip Girl. No one knows Gossip Girl's identity, but everyone in this exclusive and complicated vicious circle relies on her website and text messages for the latest scoop. Even Serena's closest friend, Blair Waldorf, is surprised to find that Serena has suddenly ended her self-imposed exile to boarding school and returned to Manhattan. Keeping track of the shifting friendships, jealousies and turmoil in this wealthy and complex world isn't easy, but it's" what Gossip Girl does best.

Weeds: Season 8
The last time we saw Nancy and the Botwins it was through the scope of a hit man's rifle. Nancy had sprung from the joint and gone to New York City where she made a fresh start doing what she does best selling pot and making enemies. Now everyone's wondering who put out the hit and who got smoked.