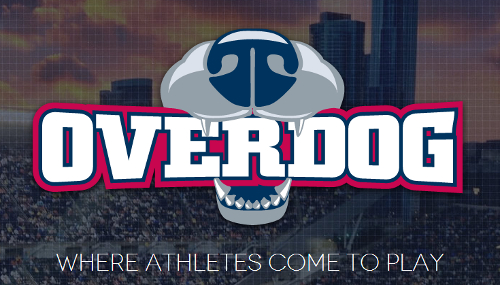 Today marked the launch of a Kickstarter for OverDog, a new company that will soon be rolling out a service connecting gamers with professional athletes for online competition. Co-founded by former Chicago Bears linebacker Hunter Hillenmeyer OverDog has an advisory board that includes Chris Kluwe and David Price and the backing of the Players Associations for all the major leagues and other promotions such as UFC.
In April OverDog will launch in beta form with a targeted full release in August. A mobile app will be available that makes possible the opportunity to establish games with athletes when they are looking to play. One of the primary goals of OverDog is not just to offer an opportunity to play games against notable individuals but build a community around those interactions. Authenticity is also key with assurances made that the athlete in question is really participating and may even be witnessed doing so.
The Kickstarter fundraising campaign is for additional features to be built out such as automated catpure of game results, leaderboards, athlete vs. athlete gaming, fan vs. fan tournaments, and to bring additional athletes into the fold. Those who provide $15 or more will be granted access during the beta period and able to provide feedback with larger pledges offering guaranteed opportunities to play various athletes and more. Check out the Kickstarter page and official website for additional information on what OverDog is all about.