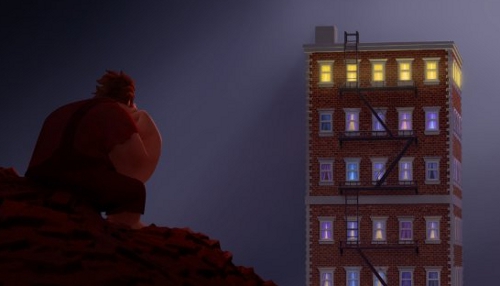 Wreck-It Ralph
From Walt Disney Animation Studios comes a hilarious, arcade-game-hopping journey in Disney's Wreck-It Ralph. For decades, Ralph has played the bad guy in his popular video game. In a bold move, he embarks on an action-packed adventure and sets out to prove to everyone that he is a true hero with a big heart. As he explores exciting new worlds, he teams up with some unlikely new friends including feisty misfit Vanellope von Schweetz. Then, when an evil enemy threatens their world, Ralph realizes he holds the fate of the entire arcade in his massive hands. Featuring an all-star voice cast and breakthrough bonus features that take you even deeper into the world of video games, Disney's Wreck-It Ralph has something for every player.

Red Dawn
Chris Hemsworth (Thor), Josh Hutcherson (The Hunger Games), and Isabel Lucas (Immortals) deliver a full arsenal of pulse-pounding excitement in this explosive action-adventure! The unsuspecting citizens of Spokane, Washington, wake up one morning to the shocking sight of foreign paratroopers dropping from the sky in a surprise attack on the United States. Soon the entire city is under enemy control, but a group of courageous teenagers has decided to fight back, by waging an all-out war against the invaders, to take back their town – and their freedom!

Schindler's List 20th Anniversary Limited Edition
Experience one of the most historically significant films of all time like never before with the 20th Anniversary Limited Edition of Steven Spielberg's cinematic masterpiece, Schindler's List. Winner of seven Academy Awards including Best Picture and Best Director, this incredible true story follows the enigmatic Oskar Schindler (Liam Neeson), who saved the lives of more than 1,100 Jews during the Holocaust. It is the triumph of one man who made a difference and the drama of those who survived one of the darkest chapters in human history because of what he did. Meticulously restored from the original film negative in pristine high definition and supervised by Steven Spielberg, Schindler's List is a powerful story whose lessons of courage and faith continue to inspire generations.

Playing For Keeps
A retired soccer star attempts to rebuild the relationship with his son and ex-wife by coaching the soccer team.

Lego Ninjago: Masters of Spinjitzu Season 2
Masters of Spinjitzu: a new force to save the world!

Duck Dynasty: Season 2
In Season 2, Volume 1, of the hit series "Duck Dynasty" on A&E, Louisiana's bearded, camouflage-clad millionaires continue to live out the American dream while staying true to their rugged outdoorsman lifestyle and Southern roots. Ask anyone in Louisiana and they'll tell you that the bayou state's favorite first family doesn't live in the governor's mansion but in the backwoods, where the Robertsons' rags -to-riches story is still unfolding. A homegrown mom-and-pop operation, Duck Commander has become a sporting empire by fabricating top-of-the- line duck calls and decoys out of salvaged swamp wood. This newly-minted multimillionaire family is kept in line by business-savvy Willie, who runs Duck Commander with the help of his brother Jase, their respective wives Korie and Missy, patriarch and founder of the company, Phil, and uncle Si. Together they run a booming business that employs half their neighborhood, but at the end of the day you can find the whole family around matriarch Miss Kay's dinner table. Each episode brings a new set of challenges, met with a special brand of Southern know-how and a down-home sense of humor.