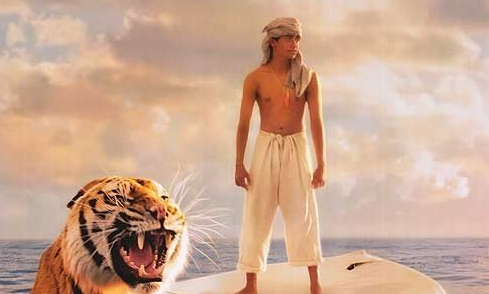 Life of Pi
Embark on the adventure of a lifetime in this visual masterpiece from Oscar winner Ang Lee, based on the best-selling novel. After a cataclysmic shipwreck, young Pi Patel finds himself stranded on a lifeboat with the only other survivor – a ferocious Bengal tiger named Richard Parker. Bound by the need to survive, the two are cast on an epic journey that must be seen to be believed.

Rise of the Guardians
Rise of the Guardians is an epic adventure that tells the story of a group of heroes – each with extraordinary abilities. When an evil spirit known as Pitch lays down the gauntlet to take over the world, the immortal Guardians must join forces for the first time to protect the hopes, beliefs and imagination of children all over the world.

Willow
Journey to the far corners of your imagination with Willow, for the first time ever on Blu-ray! Now fully digitally restored, this release features a dazzling array of extras, including new, never-before-seen exclusive content. From legendary filmmakers George Lucas and Ron Howard comes a timeless fantasy tale in which heroes comes in all sizes…and adventure is the greatest magic of all. When young Willow Ufgood (Warwick Davis) finds an abandoned baby girl, he learns she is destined to end the reign of the wicked Queen Bavmorda (Jean Marsh). In order to protect the child, Willow must team up with a rogue swordsman (Val Kilmer) and overcome the forces of darkness in the ultimate battle of good versus evil!

Who Framed Roger Rabbit: 25th Anniversary Edition
On Blu-ray for the first time ever, this digitally remastered edition of Who Framed Roger Rabbit practically jumps off the screen with its brilliant picture, rich sound – and dangerous curves. It's 1947 Hollywood, and Eddie Valiant (Bob Hoskins), a down-on-his-luck detective, is hired to find proof that Marvin Acme, gag factory mogul and owner of Toontown, is playing hanky-panky with femme fatale Jessica Rabbit, wife of Maroon Cartoon superstar, Roger Rabbit. When Acme is found murdered, all fingers point to Roger, who begs the Toon-hating Valiant to find the real evildoer. Complete with hours of bonus features – including three digitally restored Roger Rabbit shorts, this multi Oscar winner (best film editing, best sound effects editing, best visual effects, special achievement in animation direction, 1988) is pure magic in hi-def Blu-ray.

Hitchcock
HITCHCOCK is a love story about one of the most influential filmmakers of the last century, Alfred Hitchcock and his wife and partner Alma Reville. The film takes place during the making of Hitchcock's seminal movie Psycho.

NFL Super Bowl XLVII Champions: 2012 Baltimore Ravens
Believe It, Baltimore, your Ravens are once again Super Bowl Champions! With their thrilling 34-31 victory over the San Francisco 49ers, the Ravens put an exclamation point at the end of Ray Lewis' Hall Of Fame career, and rode the talents of Lewis, quarterback Joe Flacco, tailback Ray Rice and a host of others to the second World Championship in franchise history. After capturing the AFC North title for the third straight year, the Ravens topped the Colts and stunned the Broncos and Patriots on their home turf before knocking off the Niners, coached by Head Coach John Harbaugh's brother, Jim, in Super Bowl XLVII.