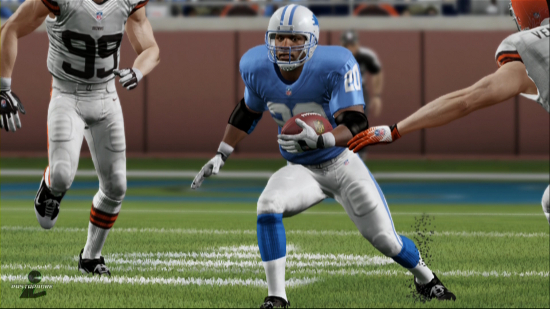 The brackets were unveiled earlier this week for the competition to capture the cover of Madden NFL 13. Featuring 32 legends and 32 current stars, each with their own bracket the winners of which are on a collision course to battle for the honor, the voting has been opened and the first round runs through next Wednesday. The entire campaign for the cover will end the day before the NFL Draft begins.
Here is a look at the "Old School" bracket with predictions of who will move on to the second round. Evaluation of the "New School" side will be posted later this week! 
#1 Joe Montana
vs #16 Jake Delhomme
Acting as a sacrificial lamb here is Delhomme who is clearly the weakest entrant in the competition. Montana will obviously cruise to the second round.
#9 Jerome Bettis
vs #8 Curtis Martin
All things being equal, and statistically these two are, the advantage goes to the player with the most supportive fan base. Steelers over the Jets.
#5 Marshall Faulk
vs #12 Clinton Portis
Former cover athlete and recent Hall of Fame inductee Faulk has stayed in the public light with his gig on NFL Network. Portis' goofy alter egos won't be enough to topple him.
#4 Dan Marino
vs #13 Reggie Wayne
For some reason Wayne acts as the Colts representative here, the only active player to be included on this side, only to be paired against Marino. Not really a fair fight.
#6 Marcus Allen
vs #11 Tedy Bruschi
Marcus Allen has the resume here to move on but Bruschi is a threat due to Patriots' fan support and his appearances on ESPN. Allen might also have to deal with a loss of support from Raiders fans as he in representing the Chiefs here. Still should have enough to move on.
#3 Barry Sanders
vs #14 Ron Rivera
Hard to imagine Barry Sanders not being considered a one or two seed. He's held in high regard by pretty much everyone. His NCAA Football 13 involvement (cover and playable) might hurt his potential though since he doesn't feel as "fresh" as the others now.
#7 Randall Cunningham
vs #10 LaDainian Tomlinson
Had Tomlinson, who turned down opportunities at the cover in the past, not ended his career on a down note with the Jets he might get more support. Cunningham enters this at a perfect time with dual-threat QBs like Robert Griffin III, Russell Wilson, Colin Kaepernick and Cam Newton making waves. He's one to watch as a lower seed to make noise.
#2 Ray Lewis
vs #15 Derrick Brooks
Many will expect Lewis to make a big run and challenge for a second cover but there may be a sense of overexposure as others have grown tired of hearing about or from him now. He should still get by Brooks here though.
#1 Jerry Rice
vs #16 Fred Taylor
Rice was forced into a "play-in" against Cris Carter yet captures the a top seed. Two 49ers, both #1 seeds, are involved as the Houston Texans are left without a rep on this side.
#9 Eddie George
vs #8 John Randle
George is one of the three former Madden cover athletes to be involved in the cover campaign and can even expect some backing from Ohio State fans here. Randle entered the Hall of Fame in 2010 but defensive players are at a disadvantage. Could be a close one.
#12 Sterling Sharpe
vs #5 Michael Strahan
Strahan has the platforms and national exposure (Live with Kelly and Michael, Dancing With The Stars) but those crowds are unlikely to show up on an ESPN page to vote for him for the cover of a video game. Packers fans, who had campaigns to vote against their guys in the past, don't have to concern themselves over a "curse" here.
#4 Kurt Warner
vs #11 Ozzie Newsome
On TV, and fresh on fans' minds still having only been out of the league for a few years now, Warner shouldn't have any trouble here against the Ravens current General Manager.
#6 Tim Brown
vs #11 Chad Johnson
Johnson has the social reach to affect voting here. It would be unfortunate for a guy who washed out of the league following a domestic battery charge to knock other deserving players out. Brown could be helped by Notre Dame support but will need Raider fans to show up in full force.
#3 Troy Aikman
vs #14 Deuce McAllister
Cowboys fans are going to turn out and support Aikman, and McAllister isn't near a strong enough name to counteract that with a swell of anti-Cowboys votes.
#10 Terrell Davis
vs #7 Jim Kelly
This might be the toughest pairing to call. The Bills teams led by Kelly (and Thurman Thomas) were certainly memorable going to and losing four straight Super Bowls while Davis has league and Super Bowl MVPs to his name.
#2 Deion Sanders
vs #15 Cortez Kennedy
Recent Hall of Fame inductee Kennedy gets a tough draw going up against "Primetime" who looks to have a fairly easy path to the round of eight.