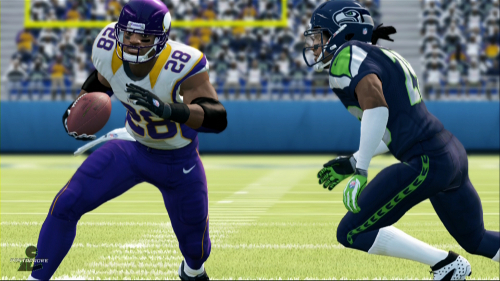 A few days of voting still remain in the first round of the Madden NFL 25 cover tournament. 64 candidates are involved with 32 legends in one bracket and 32 current stars in the other. Last week an evaluation of the match-ups in the "Old School" bracket was made and now is a chance to look at how the "New School" side shapes up. 
#1 Colin Kaepernick
vs #16 Antonio Gates
It's crazy to think a backup QB for much of the season would not just emerge as a star but do so in a manner to earn a #1 seed in this tournament. Kaepernick did just that, giving the 49ers three out of four top seeds in the entire competition. Gates has been included in all the cover tournaments and his prime opportunity has long passed.
#8 A.J. Green
vs #9 Matt Forte
Both Green and Forte lost by turning in poor showings in the first round last year. Green is coming off the stronger season and another playoff appearance so he has the distinct edge.
#5 Julio Jones
vs #12 Jimmy Graham
Jones had the more explosive season including two TD catches in the NFC Championship game, while Graham disappointed compared to expectations that many had for him and those who play fantasy football never forget those things.
#4 Arian Foster
vs #13 Danny Amendola
For the second straight year Rams fans get screwed as their rep leaves early to sign with the Patriots (it was Brandon Lloyd last year). Foster recently quit social media, which hurts his longer-term potential, but this is no contest here. He lost in the Sweet 16 last year to eventual winner Calvin Johnson.
#11 Victor Cruz
vs #6 Von Miller
Cruz was a two seed last year and got knocked out in the quarterfinals. His plummeting in seeding is odd considering he put up comparable numbers to the year before, though without a playoff run and eventual Super Bowl victory to increase his exposure. Miller had a Defensive Player of the Year caliber season, overshadowed a bit by J.J. Watt's, but defensive players are at a disadvantage in popularity contests.
#3 Russell Wilson
vs #14 Justin Blackmon
Wilson gets an easy opponent for the first round and looks to be one of the three or four guys with the best chance to come out of the "New School" side of the tournament and challenge for the cover.
#10 Clay Matthews
vs #7 Trent Richardson
This is an interesting pairing that is backed by supportive fan bases. The Browns fans pushed Peyton Hillis to the cover two years ago. They may not be so excited to do that to another player of theirs. Packers fans have voted against Aaron Rodgers to avoid the "curse" in the past. Rodgers still advanced to the final four last year and Matthews didn't make the bracket by losing to him in the team play-in round.
#2 Andrew Luck
vs #15 Jake Locker
The Titans were a team that didn't really have anyone worthy of being involved in the cover vote so the young QB gets the nod, and Andrew Luck won't have any trouble dispatching him.
#1 Robert Griffin III
vs #16 Ryan Tannehill
RG3 will face the challenge of being opposed by fans of other NFC East teams, even though he is pretty well liked by everyone giving him a chance to go deep in the competition despite the potential of missing time next season due to his knee injury.
#8 Doug Martin
vs #9 Matthew Stafford
Maybe Megatron had given EA indications he didn't want to be back for a second straight year or would want more money. That's the only explanation for Stafford being involved instead. Have to go with "The Muscle Hamster" for nickname alone.
#5 Ray Rice
vs #12 Luke Kuechly
While Rice has already won a cover vote – for NFL Blitz last year by defeating two other candidates – he doesn't seem likely to be much of a threat to go deep here. He lost in the first round for Madden 12 (to Peyton Hillis) and in the quarterfinals for Madden 13 (to Aaron Rodgers). Kuechly won Defensive Rookie of the Year but that won't compel many to swing votes his way over the Super Bowl winner.
#13 C.J. Spiller
vs #4 Dez Bryant
Probably the most intriguing match-up in the first round has the explosive Spiller up against Bryant who stepped up in the second half of last season to begin fulfilling the potential many felt he had. Bryant has the advantage of the Cowboys fan base but also the disadvantage of the remainder of fans possibly casting votes against them. Going with the upset here.
#6 Jamaal Charles
vs #11 Darrelle Revis
Revis gets the nomination apparently because he had a better season in two games before getting injured than anyone who remained healthy on the Jets did. He may not even be a Jet by the time voting closes on the round. Charles on the other hand turned in huge performances that was recognized by fantasy players even though the Chiefs were the worst team in the league.
#3 Rob Gronkowski
vs #14 Antonio Brown
Gronk fatigue has largely set in and he had a better chance last year when he lost in the round of eight. This time he's coming off a season in which he missed a lot of games due to injury. That being said Antonio Brown is not the guy that will be able to capitalize on his vulnerability.
#7 Patrick Peterson
vs #10 LeSean McCoy
This is a tough pairing to call because both come from poor teams and McCoy, who would have the edge all things being equal, had a down year statistically and missed multiple games. Peterson made the Pro Bowl but didn't have the special teams highlights he turned in during his rookie season which would have helped him to stand out. Still his 7 interceptions and overall improved coverage skills should be enough here to get by what would have been any underwhelming rep from the Eagles.
#2 Adrian Peterson
vs #15 Carson Palmer
How did AD not get a #1 seed coming off an MVP season and nearly breaking the rushing record? Looking at his history he was not included in the pool of players last year and lost in the semifinals two years ago when he had a good shot to win. It's not all bad though for him here as he gets to face an undeserving-of-being-here Carson Palmer and a somewhat easy draw all the way to the semifinals.