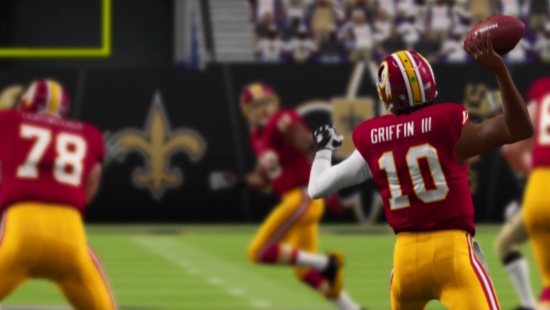 The results from the first round of the Madden NFL 25 cover competition that came in a few days ago will help to provide some insight on where the voting base is trending and the chances for each entrant going forward. There were no real shockers in the round involving active players though a few lower seeds moved on in tight races. After analyzing the "Old School" bracket earlier here is a look at how things are shaping up in the "New School" bracket. 
#1 Colin Kaepernick
vs #8 A.J. Green
Long term prospects for Kaepernick don't look encouraging after his weak performance in the first round. He drew only 62% against the 16 seed. That was the lowest percentage for any 1-4 seed and a sign of trouble to come. Green's 67% over Matt Forte doesn't suggest he'll have the strength to knock out Kaepernick though.
#5 Julio Jones
vs #4 Arian Foster
Jones had the tougher opponent in the first round so the results come out about even there. With Foster having quit social media that could be the opening Jones needs against one of the best running backs in the league. Jones is the fresher face for a cover competition too.
#3 Russell Wilson
vs #6 Von Miller
Miller was able to knock off Victor Cruz who, despite his lower seeding, was really the favorite. Defensive players have a tougher time gaining traction in popularity contests. It seems extremely unlikely that Miller would be able to match that 51% or do even better going against Wilson.
#2 Andrew Luck
vs #10 Clay Matthews
Luck comes off his bye of facing Jake Locker while Clay Matthews had to fight through Trent Richardson. This could be closer than many would anticipate if the Packers fan base shows up, but it's hard to imagine Luck losing here and missing out on a high-profile pairing in the next round with Russell Wilson.
#1 Robert Griffin III
vs #8 Doug Martin
RG3 was able to walk over Ryan Tannehill and will have no problem with Martin. It's not a good sign that "The Muscle Hamster" only drew 53% against Matthew Stafford.
#4 Dez Bryant
vs #5 Ray Rice
This is an interesting match-up as Bryant makes his first appearance in a cover vote and Rice has seemingly been in them all. Conventional wisdom would be to go with Rice coming off the Super Bowl win and having won a cover vote in the past (NFL Blitz). Bryant emerged from a battle with C.J. Spiller. Gut feeling is Bryant pulls it out but the evidence points to Rice.
#3 Rob Gronkowsi
vs #11 Darrelle Revis
Gronk only got 79% against Antonio Brown in the first round. The strong fan base for the Steelers can be part of the reason why but Brown is not someone that should have been taking his votes otherwise. Revis surprisingly topped Jamaal Charles with 52%. This could be another one that is close with non-Patriots and Jets fans tossing their support behind the one they dislike less. The questionable status for Revis is probably enough to let Gronkowski get by for another week.
#2 Adrian Peterson
vs #10 LeSean McCoy
Who were the 6% of people that voted for Carson Palmer over Peterson? Regardless AD is going to steamroll another opponent here. McCoy was not a strong candidate to be included in this competition and he's facing what should have been a 1 seed.